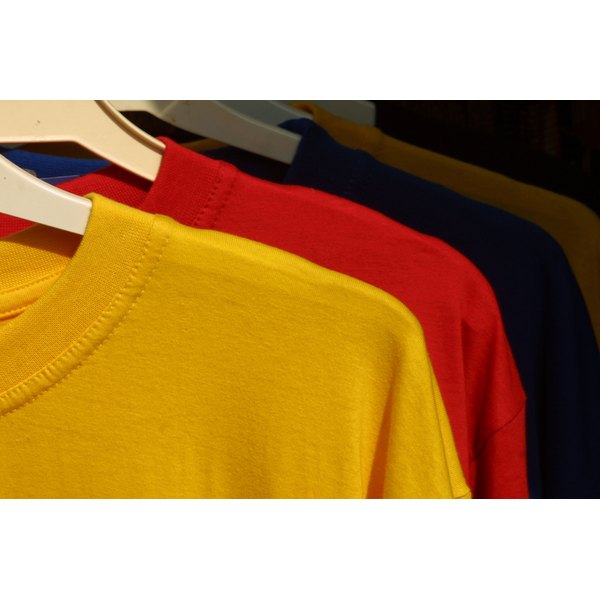 Recycle old T-shirts or turn boring plain tees into a fashion statement. Create your own designer T-shirt by cutting off the neckline of a jersey-knit T-shirt. Jersey knit is made of cotton or a blend of cotton and synthetic fibers to create an interlocking weave that does not ravel when cut, making it perfect for the self-styled t-shirt. Your imagination is your guide. Symmetry is the only rule, and it, as they say, was made to be broken.
Step 1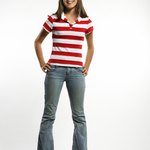 Fold your T-shirt in half, with a fold in the middle of the front and the middle of the back. Line up shoulder seams. Folding your T-shirt in half this way enables you to cut off the neckline and maintain a level of symmetry.
Step 2
Make long, smooth strokes with your scissors to avoid little jags in the fabric. Begin at the back center of the shirt, just below the ribbed-knit neckline trim, and cut off the ribbed knit.
Step 3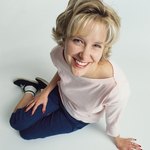 Slide your thumb and forefinger along the cut edge, working your way all the way around the neckline. Sliding the fabric through your fingers provides just enough stretch to make the cut edge roll.
Tips
Create a scoop- or boat-style neckline by cutting off more of the shoulder and cutting deeper in the front and back of the T-shirt. Make a newspaper pattern before cutting your shirt. Lay the fold of a sheet of newspaper even with the fold of the front -- or back -- of your T-shirt. Mark the existing neckline of the shirt onto the newspaper. Cut out the neckline in the newspaper and hold the newspaper up to yourself while looking in the mirror. With a marker, draw a line for the new neckline. It doesn't have to be precise. Refold the newspaper and lay it back on the T-shirt, matching fold and neckline. Using the mark on the newspaper as your guide, cut a scooped or boat neckline. Stretch the cut edge to roll the fabric.
Photo Credits
Hemera Technologies/AbleStock.com/Getty Images