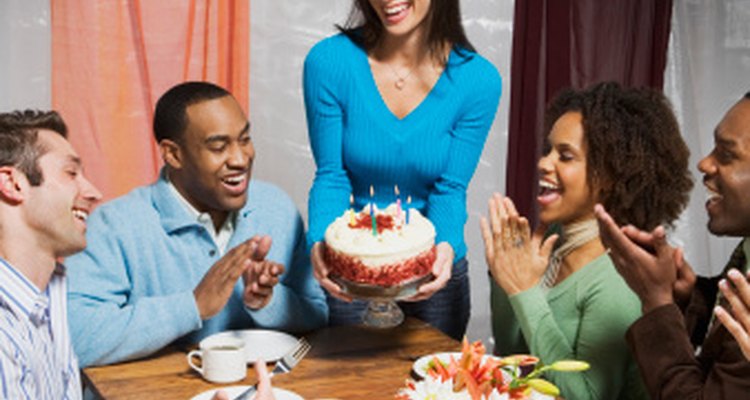 Jupiterimages/Brand X Pictures/Getty Images
Weddings are full of traditions, from the proposal to the tossing of the bouquet. And the rehearsal dinner is no exception. This event is usually held the night before the wedding and includes members of the bridal party and the couple's families. Traditionally, the groom's cake is served for dessert. But like all traditions, nothing is set in stone.
History of the Groom's Cake
The groom's cake tradition dates back to the Victorian era in England. Back then, the bride and groom each had an individual, smaller cake, which were served alongside the much larger wedding cake. The bridal and groom's cakes were sliced and distributed to members of the bridal party. Over time, the tradition of the groom's cake crossed the ocean and became popular in the South, where it holds as a wedding staple today.
Groom's Cake Superstition
According to legend, if a single woman sleeps with a slice of the groom's cake under her pillow, she will dream of her future husband that night. Include this superstition in your rehearsal dinner by gifting individually boxed slices of the groom's cake to your bridesmaids and other single women.
What Flavor?
When they originated, groom's cakes were fruitcakes. However, groom's cakes today are often dark chocolate, spiced or contain liqueur -- a contrast to the wedding cake, which is often lighter in color and flavor. The groom's cake is where the groom can have some say in the wedding planning. Groom's cakes often reflect the groom's personality, whether that be a guitar-shaped creation or a dessert featuring his loyalty to his favorite sports team.
Think Outside the Cake Box
You are not limited to serving the groom's cake at the rehearsal dinner. Some couples serve this at the wedding, after the wedding cake has been sliced and served. Instead, dessert at the rehearsal dinner can tie in with the dinner's theme -- tiramisu at an Italian restaurant, for example. Or you can serve the groom's favorite dessert, whether that be peanut butter cookies or his mom's famous apple pie. As the rehearsal dinner falls under the groom's family's jurisdiction, it is primarily their call what is served.
References
Writer Bio
Erin Donnelly is a graduate of The Ohio State University where she majored in journalism and minored in English. She was editor of the Barnesville Enterprise, a weekly newspaper in western Belmont County, Ohio. More recently, she covered the Barnesville area for the Times Leader, a daily newspaper based in Martins Ferry, Ohio.
Photo Credits
Jupiterimages/Brand X Pictures/Getty Images