Jupiterimages/Photos.com/Getty Images
Maryland's Chesapeake Bay offers a plethora of seafood, such as oysters and crabs. However, Maryland offers much more than crabs. Baltimore, with its working class history, has adapted many American food traditions. People from around the world eat Maryland blue crabs when they visit the state. The state's official cake comes from Smith Island, home to the architectural wonder of a historic layer cake. Many other foods also incorporate Maryland's seafood seasoning.
Crab Cake
Nick White/Digital Vision/Getty Images
More than any other food, Maryland's blue crab have shaped the culinary identify of Maryland. Marylanders have developed their own version of the crab cake. Cooks start with jumbo lump crab meat, cleared of any cartilage or shells. Then they mix together eggs, mayonnaise, mustard, Worcestershire sauce and parsley in a bowl. Crab meat gets added. Finally cooks add cracker meal and form three-inch cakes. The cakes need to be refrigerator for one hour before frying. Maryland crab cakes are fried in vegetable oil until golden brown.
Chesapeake Chicken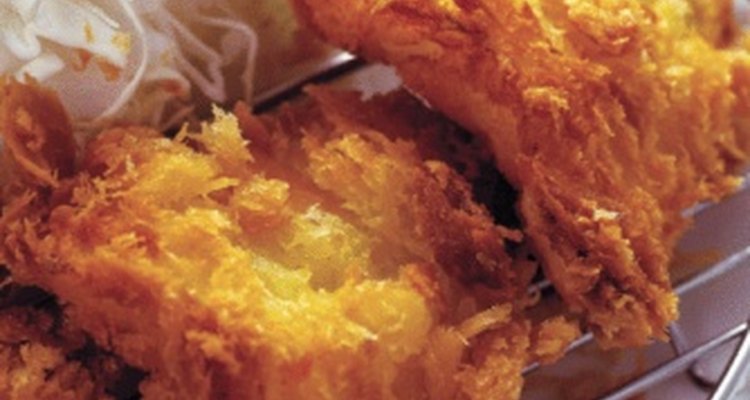 Media Bank/Photos.com/Getty Images
Chesapeake chicken has just the right amount of spice, putting a Maryland spin on an American classic. Baltimore has a number of famous fried chicken restaurants that serve up this version of juicy delectable fried chicken. This recipe calls for Maryland seafood seasoning and spicy Tabasco sauce. Cooks combine buttermilk, Tabasco, seafood seasoning and pour over chicken to refrigerator overnight. They mix flour with more of the seafood seasoning and drench chicken in the flour mixture.
Pit beef
Maryland has its own take on barbecue called pit beef. Baltimore has many concession stands that sell pit beef from March until November. Pit beef is prepared from a dry-rubbed cut of beef. Pit masters slowly cook the well-marinated beef over a charcoal grill. Visit "Pit Beef Row", a stretch of Route 40 famous for barbecue stands for a taste of Maryland's version of BBQ.
Desserts
Maryland has two signature desserts which reflect the extravagance of Marylanders. The Berger cookie, a sugar wafer fudge iced cookie, originated in the 19th century. The cookie has become the pride of Baltimore. However, Smith Island Cake has been named the state's official dessert. The cake has between six and 12 thin yellow cake layers, covered with chocolate fudge icing. Each layer of yellow cake also has a layer of peanut butter cup pieces. Bakers top the cake with peanut butter cup chunks and chocolate fudge icing.