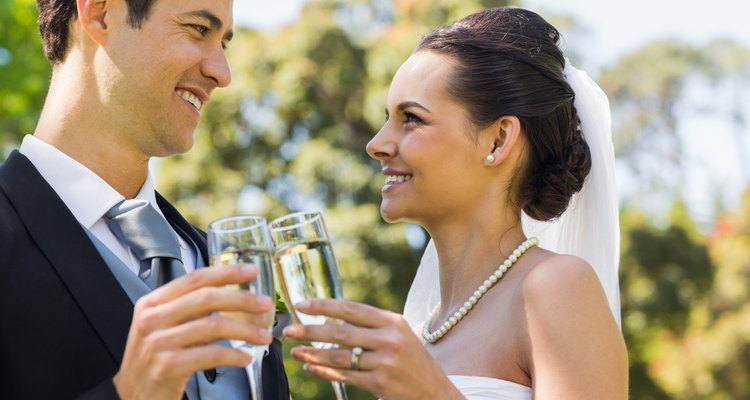 Wavebreakmedia Ltd/Wavebreak Media/Getty Images
Scrumptious seafood dishes, continually flowing wines, tempting desserts accompanied by brandy and coffee are among the culinary delights shared with 200-plus guests at a traditional Spanish wedding reception. Four to five courses are typically served -- and in abundance. A Spanish wedding reception is no place for staunch dieters. From the appetizers to the assortment of meats to the wedding cookies, it's time to eat, drink and be merry. "Vivan los novios," or "Long live the newlyweds!"
Let the Feasting Begin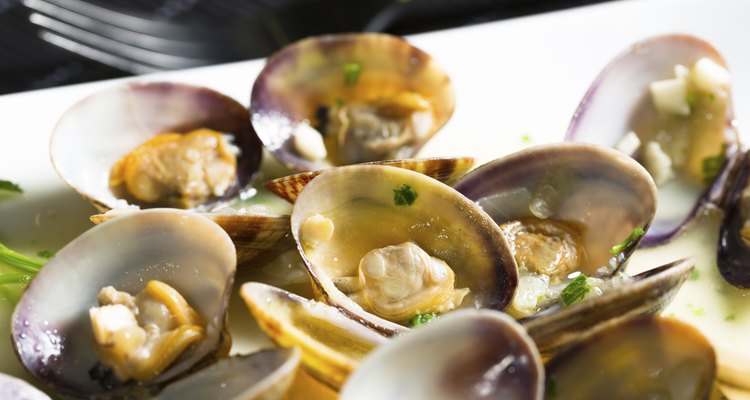 fotoedu/iStock/Getty Images
Typically for the first hour after guests arrive at the reception, small plates containing fresh tapas are served by waiters. These Spanish appetizers are often accompanied by bread and olive oil. Tapas menus can include seafood delectables like garlic and chili prawns, marinated anchovies, calamari rings, mussels, and clams. Spicy Spanish chorizo sausages are also options.
Don't Sit Down Just Yet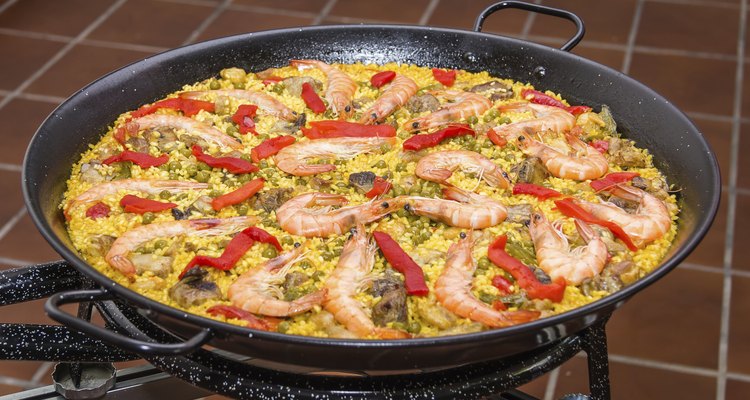 David Pereiras Villagrá/iStock/Getty Images
Paella is a Spanish delicacy, and a seafood variety is usually presented at Spanish wedding feasts. Paella is a rice dish cooked in a specially made paella pan -- a wide, low-rimmed pan, usually cast iron. The paella is served in the paella pan, and for a wedding this normally means a large pan, often around 40 inches in diameter. A seafood paella contains a mixture of prawns, mussels, squid, mixed fish pieces, and sometimes even lobster. The rice is normally seasoned with saffron, paprika and chili. Paella served as part of a buffet usually precedes the sit-down part of the wedding feast.
Sharing of the Fish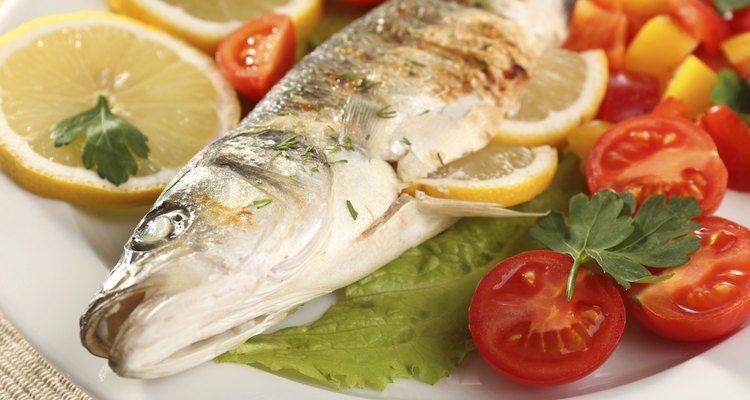 belchonock/iStock/Getty Images
Whole roasted fish is a staple at most Spanish weddings. Popular types of fish for whole roasting include striped bass, grouper, snapper, or the flaky white fish, John Dory. Roasted fish served with vegetables and often accompanied by chorizo are shared between wedding guests.
Bring on the Meats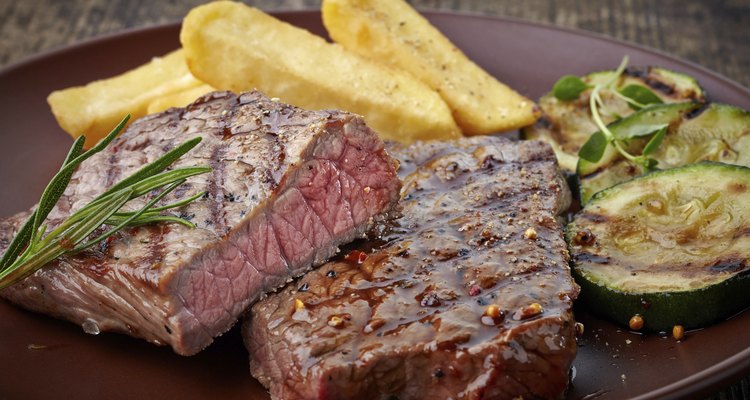 Magone/iStock/Getty Images
For the sit-down portion of a Spanish wedding feast, grilled or fried fillets of meat are commonly served. Fillets of tender beef or veal are common, with tuna fillets for a seafood option. On occasion, a whole roasted lamb is carved and served for the sit-down part of the wedding feast, but this is less common than individual fillets of meat. Accompaniments include salads like simple bean and tomato mixes or sautéed mushrooms.
Let Them Eat Cake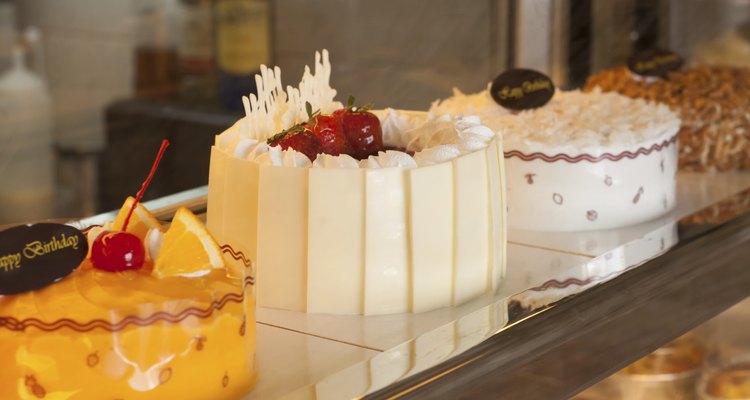 Amawasri/iStock/Getty Images
Unlike traditional tiered wedding cakes, a Spanish wedding cake is in fact more like a flan -- a flattish, tart-like cake. The cake is usually filled with fruits and nuts and sometimes custard. Traditionally the bride and groom feed each other a piece before the guests are served.
Universal Cookie Language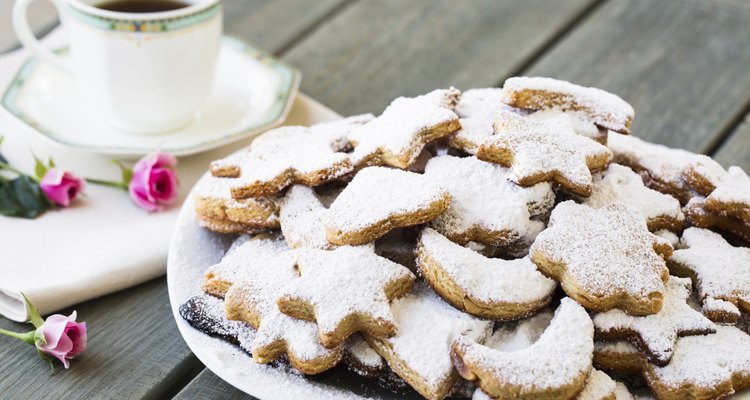 Olgaorly/iStock/Getty Images
Wedding cookies are rich, buttery, shortbread style cookies covered in sugar powder. The cookies are typically the last thing to be served to guests or are given as wedding favors. According to Foodtimeline.org, wedding cookies have their origins in the medieval Arab cultures that were dominant in Spain and Morocco, but the cookies became a traditional Spanish treat, taken to Mexico by Spanish explorers. These cookies also are called Mexican wedding cookies, Greek wedding cookies and Russian teacakes.
References
Writer Bio
B.T. Alo is media director, chief writer and editor for a U.S.-based marketing and consulting firm. He holds a bachelor's degree in business and communications. Alo's interests include business, investments, electronics, personal finance, health, communication, popular trends and travel.
Photo Credits
Wavebreakmedia Ltd/Wavebreak Media/Getty Images