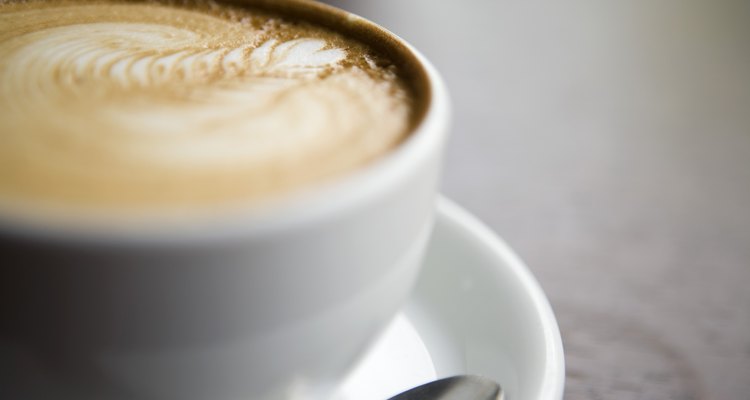 FogStock/Alin Dragulin/FogStock/Getty Images
French culinary tradition is renowned for its passionate indulgence of food and meals, with the focus being on the experience and the company over speed. A traditional French full-course dinner typically features seven courses, served over a long period -- typically two hours or more. The progression of courses emphasizes the break from the hustle and bustle of daily life, resulting in relaxed conversation and enjoyment throughout the meal.
L'Apéritif
The first course in a traditional French dinner is designed to stimulate the senses, as well as the appetite. Light portions of aromatic liquors and small appetizers are served, and plenty of time is given for conversation at the start of the meal. The appetizers are typically nuts, olives and small crackers, while the alcohol served may be champagne for a celebration or mild cocktails. Kir, a cherry liquor, is an often-served apertif in the north of France.
L'Entrée
While "entree" has come to mean the main course in the United States, in France it signifies the start of the meal. This second course consists of a mix of heavier appetizers that are served cold, as well as hot dishes and soups. Cold appetizers may include tender beef carpaccio, fish mousses and cheese flans. Examples of hot appetizers are souffles, fish terrines and soups, such as French onion or cream of asparagus.
Le Plat Principal
The third and main course of a traditional French dinner can be as varied as the country itself. In northwest France, you might find rich and buttery dishes such as pastas with cream sauces. In Eastern France, near the German border, you may be served choucroute, a rustic combination of sauerkraut and sausage. In any case, the main course in a French dinner will have at least one meat dish, a range of traditional sides and salads. Wine is served throughout.
Le Fromage
The cheese course is an important element in the traditional French dinner. It indicates the winding down of the meal, and its appearance allows for lengthy conversation uninterrupted by arriving dishes. The cheese board features a variety of local and imported cheeses; fruits such as grapes, cherries and apples; crackers; and fresh French bread.
Le Dessert
Desserts in France are usually on the lighter side, as guests have just worked their way through four courses. They can be served warm, with classics such as crème brûlée and apple tarts, or cold, such as chocolate mousses and ice creams. The tarte tatins typically feature whatever fruits are currently in season -- peaches in the summer and figs in the early fall, for example. Larger desserts like the cherry claufoutis is served family-style, with everyone expected to share.
Le Café
By the time coffee arrives, the mood at the table is one of relaxed enjoyment. There is no one "right" way to serve coffee; guests may add cream and sugar to their own tastes, or forgo coffee for hot tea or hot water and lemon. Alongside each cup of coffee is included a small square of very dark chocolate, or a decadent and bittersweet truffle, thought to enhance the flavor and experience of the coffee.
Le Digestif
Capping the end of every traditional French dinner is the digestif. Small servings of strong alcohol, such as brandy, cognac or whisky, are served to those who wish to partake. Despite health concerns, there are still those who combine the digestif with a cigar or cigarettes.
References
Arranging the Meal: A History of Table Service in France; Jean-Louis Flandrin
Food Culture in France; Julia Abramson
Photo Credits
FogStock/Alin Dragulin/FogStock/Getty Images