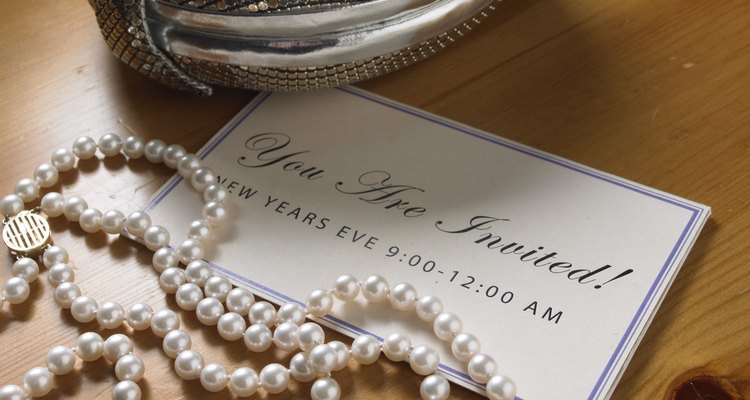 Dick Luria/Photodisc/Getty Images
Throwing an outdoor barbecue? How about an evening soiree under the stars or a graduation party? Some events may leave guests questioning what to wear. Leave no room for guessing by letting your guests know that they are welcome to dress casually by including a short sentence on the invitation. There are a variety of ways to do this and all are simple.
Direct Words
It is appropriate to use traditional, simple phrases to let your guests know to wear casual attire at your event. Simply have printed "Casual Dress" before the RSVP. Other phrases: "Dress is casual" or "Casual dress is requested."
Creative Words
You can get a little creative, depending on the level of whimsy or informality your invitation carries. For a Fourth of July Party, try a red, white and blue poem such as: "Fireworks will light up the sky. Our freedom rings. Wear something comfortable (optional is a little zing)." Or, for an informal baby shower, consider this: "Our ranger Amy is having her own cub. Let's honor her by dressing pretty--yet simply--just as she would."
Humorous Words
If your invitation is colorful, informal and you know your guests well, consider a humorous message. For example, for a child's outdoor birthday party, you might want to write: "A baby's first bite of birthday cake means this event will be one happy yet messy affair. All of us might get a little cake on us, so feel free to dress casually." Another example for a pool party: "Leave your suits at home--except for your bathing suit, that is."
Other Tips
Most "casual dress" messages are located near the end of an invitation, right before the RSVP. Formal wedding invitations do not need dress indicated. "One of the best ways to let guests in on the fact that the wedding is formal is with the invitations," writes TheKnot.com. "Get ultra-formal, traditional ones--on white, ivory, or ecru paper, with the wording done in black script, maybe even with a gold or silver border--and that should do the trick. Give your guests the benefit of the doubt, too--if they receive a formal invite from you and read where your wedding is being held, you can probably trust them to dress appropriately."
References
Writer Bio
Vera Leigh has worked as a professional freelance writer since 2008. Her work has appeared in "Learn Overseas" and "Grad Source" magazines. In addition, she received an honorable mention in "Newsweek's" My Turn contest. She has written features for nonprofits focused on literacy, education, genomics and health. In her spare time, Leigh puts her English major to use by tutoring in grammar and composition.
Photo Credits
Dick Luria/Photodisc/Getty Images