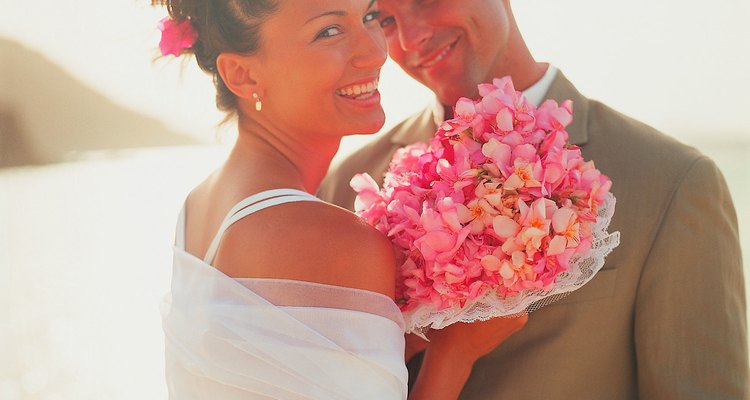 Stockbyte/Stockbyte/Getty Images
As he got down on one knee, a rush of emotions overtook your body. You felt thrilled, excited and maybe even a little bit nervous. When you said yes to his marriage proposal, the world stopped for a few minutes. And in that moment, it was just the two of you. When reality kicked in, you realized the need to tell your parents that they'll soon be gaining a son-in-law. In most cases, your parents will be thrilled for the new family addition, but the way in which you tell them might influence their initial reaction.
Timing
Timing is everything, and this rings true when telling your parents that you are marrying your sweetheart. As excited as you may be to share your good news, think about other things going on at that time. If one parent is ill or you are getting ready to attend a relative's funeral, it won't hurt to wait a few extra days to share the news. Not only does this show you are respecting the difficult circumstances, it also ensures you are more likely to receive the thrilled reaction you seek.
Location, Location, Location
If you don't want your good news to be drowned out by loud talking or music, choose a quiet place to share the fact you plan to marry the love of your life. You might think twice before inviting your parents out to a special dinner to share your news. If you want to go this route, select a restaurant that is quiet, rather than bustling with people. However, there is no need to spend tons of money to find the right location as your own home can be the perfect and free place to share your big news.
Making the Occasion Personal and Private
Because your parents are such a special part of your life, telling them personally and privately makes the occasion that much more special. As much as you may want to make the announcement of your engagement at your family reunion, telling your parents first is a respectful gesture. It also allows you to see their reaction as you tell them the big news. Not only this, but an article published Dec. 25, 2012, in "Scientific American" states that sharing good news spreads the feeling of cheer and can improve everyone's mood and well-being. Don't forget to maintain good eye contact as you tell them to ensure clear communication and to see their immediate reaction to your amazing news.
Creative Ideas for Sharing the News
Tell your parents about your engagement in a fun and creative manner. Instead of sending them a text, emailing or calling, why not do so in a way they will never forget? You might invite them over to dinner, not say a thing, and let them notice your beautiful rock that now rests on your finger. As soon as they realize, then verbalize the big news. Another idea is to create a mock save-the-date card and mail it to them as a surprise. If you decide on this route, this is still a private and personal way of telling them. However, you will miss out on seeing their initial reaction.
References
Writer Bio
Based in Texas, Lucie Westminster has been a writer and researcher since 1975. Her work has been published in journals such as "Psychological Reports" and "Journal of Verbal Learning and Verbal Behavior." Westminster's interests include developmental psychology, children, pets and crafting. She holds a Ph.D. in psychology from Miami University.
Photo Credits
Stockbyte/Stockbyte/Getty Images