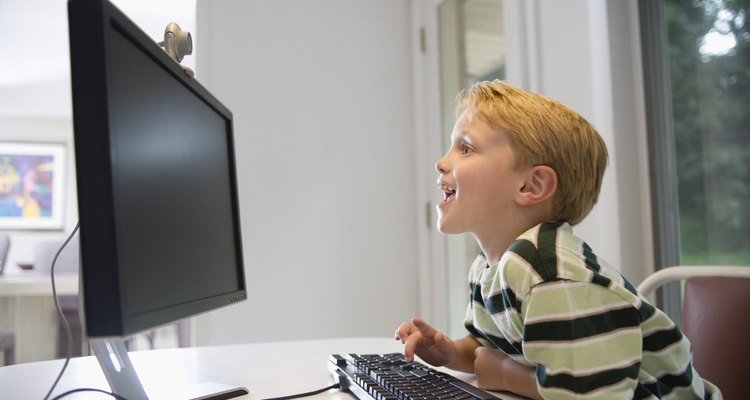 Thinkstock Images/Stockbyte/Getty Images
Using a webcam to chat with a friend or relative is the "next best thing" to being there in person. Email and phone conversations do not convey the same feeling of closeness as you can get when you see your loved one's smiling face on your computer. With the right equipment, you can stay close to everyone you hold dear to your heart--whether they live across the globe or across the state.
Step 1
Connect the webcam to your computer. You can skip this step if your computer comes with a pre-installed camera. If you don't have a pre-installed camera, you will need to install the webcam on your computer. Follow all of the manufacturers' instructions closely. Test the camera to be sure that it is working properly.
Step 2
Choose an instant messaging program to use to chat. A few options include Windows Live Messenger and Skype. Sign up for a free account with your preferred service. Be sure that the party you plan to chat with has her webcam and account set up as well.
Step 3
Launch the instant messaging program. Before you can call the other person, you need to open the program on your computer. If you are prompted to sign in, enter the username and password you chose when you signed up for the account.
Step 4
Add your chat buddy to your contact list. Before you can start chatting through your webcam, you need to make sure that the other person is on your list of contacts. In Windows Live Messenger, click "Add a Contact". Follow the instructions. In Skype, select "Contact", then "New Contact". Follow the instructions to find your friend or family member and request her as a contact.
Step 5
Call your friend or relative. If you use Skype, highlight the name of the contact you want to reach for chat. Click the "Call" option at the top of the screen. Select "Video Call". In Windows Live Messenger, click "Actions", "Video", "Start a video chat". Once the other person answers the call, you can chat as long as you want.
References
Resources
Tips
When you use free instant messaging programs, you might not have the highest quality for your call. Consider using a paid service, such as HelloWorld, for higher quality.
Photo Credits
Thinkstock Images/Stockbyte/Getty Images