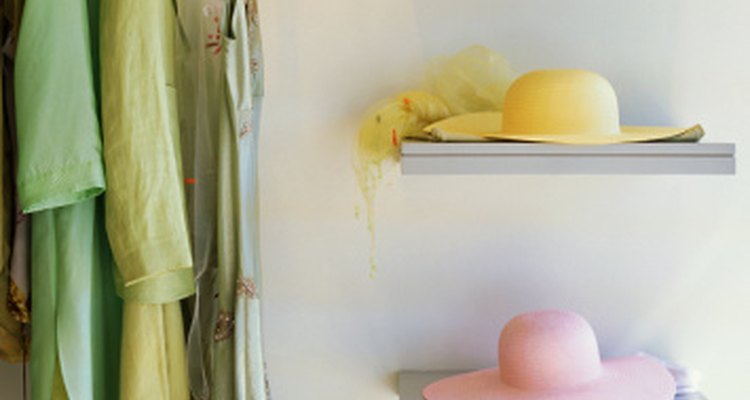 Ciaran Griffin/Stockbyte/Getty Images
A Louis Vuitton handbag screams luxury and status, and demands care as a fashionable investment piece. The company, founded in 1854, is best known for the LV monogram logo on its handbags and other goods. Because each bag is handmade from high-quality materials, the prices are expensive. Protect your investment by taking the appropriate steps to properly care for your Louis Vuitton handbag.
Buying Tips
According to the Louis Vuitton website, its handbags are only available from a Louis Vuitton store. However, other retailers sell gently used handbags. Learn the signs of a true bag to save time and money. There are no "discounts" on new Louis Vuitton bags; therefore, if you are shopping at a retailer that is not an authorized store and which offers a "deal of the day," chances are it's a fake bag. Real bags have an authenticity code on the lining, the outer leather will not fade and the monogramming should be symmetrical.
Handle Care Tips
The handle on a Louis Vuitton purse will look creamy beige when bought new. The handles will turn to a honey brown over time. The darkening of the handles occurs naturally; however, you can speed the process by leaving the purse in a sun-filled room or near a window for an hour, once a week. During the darkening process, the handles will look dirty. Do not get the handles wet because the water will spot the handles and stay throughout the darkening process, which can take up to two years.
Leather Care Tips
Avoid washing the leather with soap and water – this will ruin the handles and may spot the bag. To keep your bag in mint condition, simply wipe off dust or dirt with a dusting cloth. Harder-to-clean spots may require a quick swipe with a leather wipe or baby wipe. If the bag gets wet, dry the zipper quickly. Loosen hard-to-open zippers by running a bar of dry soap over them. The interior of the bag can be wiped down with a damp cloth. Keep smaller items that may stain the lining of the bag, such as lipstick or pens, in a pouch.
Basic Upkeep Tips
Store the handbag in its dust bag when not in use. The handbag can also be stored in an airtight container to prevent getting crushed in the closet and collecting dust. Always check the leather on handbags that have been stored for a period of time. Over time, the leather may crack. Apply leather lotion or take the bag back to the store.
References
Writer Bio
Tabitha Harwell has been writing since 2008, with articles appearing in local publications and various websites. Her background includes a career in the fashion and beauty industry. Harwell holds a Bachelor of Arts in public relations.
Photo Credits
Ciaran Griffin/Stockbyte/Getty Images