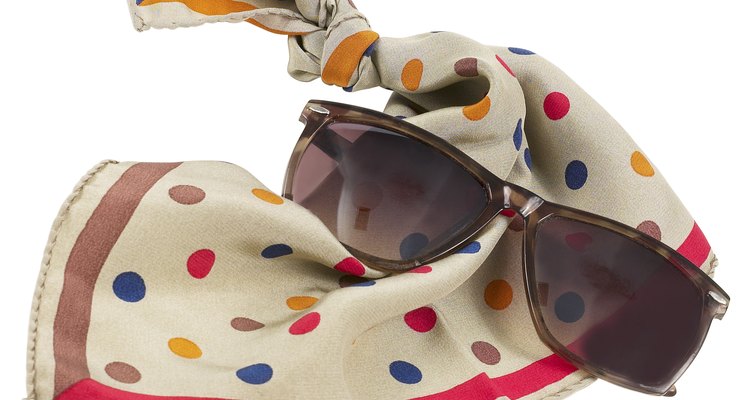 Hemera Technologies/PhotoObjects.net/Getty Images
Counterfeit Coach products can be found everywhere: internet auctions, thrift stores, yard sales, street vendors or even shopping malls. Many of the fakes look convincing, but there are certain things you can look for to determine whether a Coach scarf is authentic.
Fabric
Coach scarves are made from silk, cotton and wool, and sometimes blended with cashmere, angora and rayon. A 100 percent polyester scarf will always be a counterfeit. Coach's quality is known to be impeccable, and they choose only high quality fabrics for their accessories. They also treat their fabrics for water and stain resistance. If the fabric feels flimsy, rough or tears easily, chances are it is not an authentic Coach product.
Stitching
One of the primary indicators of a counterfeit Coach product is the quality of the stitching. If you look carefully at the stitching on every part of the scarf, you should never see a single missed or crooked stitch. The stitches should be of exactly even lengths, never overstitched, and precise in every respect. If you are viewing the item in an auction listing, request close-up photos of the hemlines so that you can examine the stitching.
Pattern
Coach products are known for their symmetry. The pattern of the scarf should be precisely aligned with the edges, and there should be no variability from one area of the scarf to another. Similarly, the print should be of equal vibrancy over the entire scarf, with no areas of missing color or flaws, however small.
Signature Logo
The famous Coach signature print never varies. In the serifed font, the "hooks" at the top of the Cs connect wherever the Cs face one another (mirror-imaged). None of the other Cs should connect with each other, although the backs of the Cs do precisely touch those behind them. There are no "hooks" at the bottom of the Cs, as is commonly seen in fakes. In the sans-serifed font, all the edges of the Cs precisely touch one another, including both the top and bottom edges of the mirror-imaged Cs.
Quality
The best way to discern a fake is to familiarize yourself with Coach's scarf styles, fabrics and workmanship. Unless you are well-versed in Coach's limited-edition items, be wary of any item marketed as such. Often counterfeit sellers will use "limited edition" labeling to explain why their print doesn't resemble the ones that customers are used to seeing. Above all, quality is the mark of a Coach bag. Even the Factory Store items have the recognizable Coach workmanship that a counterfeit can never adequately mimic.
References
Writer Bio
Jennifer Komatsu is the founder and director of Minnesota-based greyhound rescue shelter, producing content for the organization's website, blog and newsletters. She has also published articles in "Celebrating Greyhounds" magazine, as well as various psychology journals. Komatsu graduated magna cum laude from Carleton College, earning a B.A. in cognitive psychology.
Photo Credits
Hemera Technologies/PhotoObjects.net/Getty Images