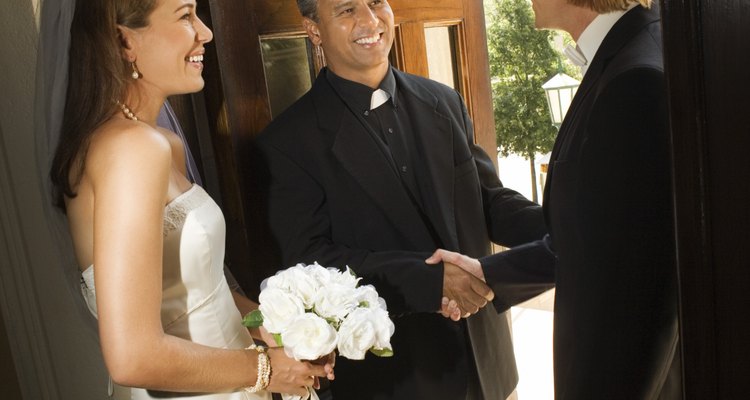 Jupiterimages/Comstock/Getty Images
Creating a Catholic wedding, even a simple one, requires planning the ceremony months in advance.The Catholic Church outlines strict religious rites and regulations that you must take note of when planning a traditional Catholic wedding. Once you have become engaged, you should contact your local parish. A priest can guide you through a simple Catholic ceremony and help eliminate any setbacks that may occur before the big day.
Year Prior To The Wedding
Twelve months prior to your wedding start envisioning the kind of ceremony you want. For a simple Catholic wedding, you can skip a full traditional ceremony. You can choose to incorporate only necessary elements, such as a blessing that would be needed for an interfaith marriage. Select a date for the wedding. The time of year and the parish's own requirements may dictate the timing of the ceremony. If you want a smaller or shorter wedding, a mass before the ceremony is optional. Typically, a mass can last up to an hour and a ceremony without one may last only around 20 minutes.
Nine Months Before
Meet with the officiant of your wedding to discuss details of the big day. You need to pick out blessings, music and readings for the ceremony. Choose your wedding party as well. Select a maid of honor and best man within the Catholic faith. For a simple wedding, you can skip having a full bridal party. Couples must attend premarital counseling, called Pre-Cana, that extends over several weeks to a month.
Six Months Before
Design and order wedding invitations to be sent out to guests. Reserve pew markers for the wedding in advance for friends and family members. You can choose to keep your guest list small and arrange for communion prior to the wedding for those who wish to receive it. Start shopping for your wedding dress. Ask about wardrobe restrictions, as some churches require the bride to keep her shoulders covered for the wedding.
Three Months Before
Plan the ceremonial readings. Some churches may allow you to have family members participate in the readings. Decide during this time if you and your partner would like to receive a Papal blessing if you are planning on getting married within the Roman Catholic Church. An application must be completed and approved in Rome before the blessing can take place. Start planning the decorations for the church. Find out from the officiant what items you can bring in and what decor is excluded by the church.
Two Months Before
Finalize the invitations, the ceremony details and your vows two months before the wedding. Publish a wedding announcement in your local newspaper and in your parish's newsletter or bulletin. Book a location for a rehearsal dinner.
Week Of The Wedding
Meet with your priest one last time to go over last-minute details. As you finalize each step of the ceremony, ask questions you have regarding how the day is to play out. Have a rehearsal ceremony one day before the wedding. Invite your wedding party and priest to be present during the rehearsal.
References
Writer Bio
Mary Corbin began her career writing for online and print media in Indianapolis. Since 2004, she has covered subjects such as home and family, technology and legal issues. Working in the broadcast industry, Corbin created articles for marketing, public relations and business matters. She graduated with a bachelor's degree in journalism from Indiana University.
Photo Credits
Jupiterimages/Comstock/Getty Images