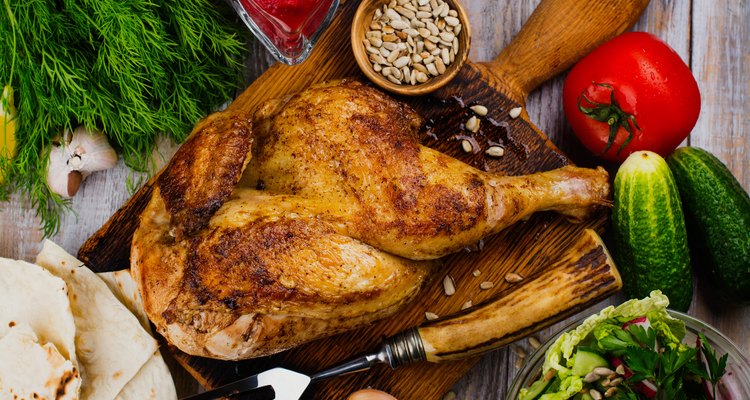 happy_lark/iStock/GettyImages
Barbecue chicken's main attraction is its sweet and tangy sauce, a red glaze often based on ketchup. It's the sauce, not the method of preparation, that makes it "barbecue" -- the chicken itself can be cooked either on the grill or in the oven. This is a classic American dish you can eat year-round and work into virtually any menu.
Salads
For an outdoor summer meal featuring barbecue chicken, picnic salads are almost mandatory. Potato salad, coleslaw and macaroni salad are all possible choices -- or, if you're feeling generous, serve all three. Macaroni salad almost always has a mayonnaise-based dressing but both potato salad and coleslaw can be prepared with a vinegar-based dressing if you prefer. For variety, try adding bacon to your potato salad and other thinly shaved vegetables such as fennel and red bell pepper to your coleslaw.
Grilled Vegetables
As long as you've fired up the grill for barbecue chicken, why not put some vegetables on the coals as well as the main course? Grilled corn on the cob is a fine choice -- the sweetness of the corn balances the tang of the barbecue sauce. Grilled zucchini, red bell peppers, asparagus, baby artichokes and tomatoes are just some of the possibilities. Skewers of mixed vegetables, brushed with a little olive oil, work as well.
Oven-Cooked Sides
If you're serving oven-baked chicken with barbecue sauce, try serving an oven-baked side dish to accompany it. A classic baked potato would work, as would oven-roasted potatoes. A side dish of mixed roasted vegetables is another good choice -- try sweet potatoes or winter squash, turnips, broccoli or cauliflower.
Beans
Another classic accompaniment to barbecue chicken is a side of beans. If you're cooking your chicken in the oven you can opt for traditional baked beans. If you're grilling, serve a bean salad. You can also serve beans cooked on the stovetop. Black-eyed peas or hoppin' John -- black-eyed peas and rice -- would be a fine choice, as would simply cooked black beans.
Cornbread
If you're looking for a bready side dish to help sop up all that barbecue sauce, consider baking up a pan of cornbread to accompany your meal. Cornbread comes in many styles, from sweet and moist to rich and savory. You can add whole corn kernels, diced red pepper or chopped fresh herbs to any cornbread recipe. You can also try baking individual corn muffins for ease of serving if you like.
Fruit
Fresh fruit, cool and moist, provides a refreshing taste contrast with spicy barbecue sauce. You can keep it simple and serve sliced watermelon on the side, or go for broke and serve a mixed fruit salad, perhaps dosed with rum or a flavored liqueur and garnished with mint. Another possibility, if you're outdoors, is to serve grilled fruit. Peaches, nectarines and pineapple are particularly delicious when fire-kissed.
References
Writer Bio
Lori A. Selke has been a professional writer and editor for more than 15 years, touching on topics ranging from LGBT issues to sexuality and sexual health, parenting, alternative health, travel, and food and cooking. Her work has appeared in Curve Magazine, Girlfriends, Libido, The Children's Advocate, Decider.com, The SF Weekly, EthicalFoods.com and GoMag.com.