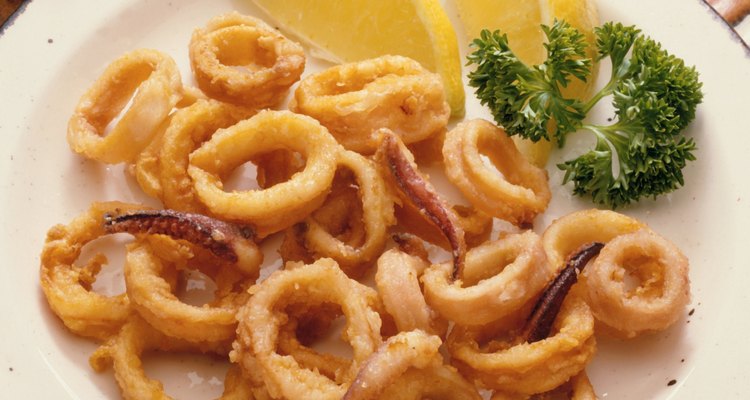 Jupiterimages/Photos.com/Getty Images
For seafood fans, breaded and fried calamari -- or squid -- is a favorite appetizer at many restaurants. Some restaurants also offer it grilled or roasted, which allows the taste of the squid to shine through. Recreate either style at home, and cook the cleaned and sliced squid in the oven for an easier and healthier preparation.
Roasted Calamari
Preheat the oven to 450 degrees Fahrenheit.
Toss the calamari with olive oil, salt and pepper in a mixing bowl, using just enough olive oil to coat all of the calamari. Add additional seasonings, if you like, such as garlic, chopped parsley and red pepper flakes.
Spread the calamari in an even layer on a baking sheet. Spread them out so the calamari pieces do not overlap.
Cook the calamari in the oven for about 10 to 15 minutes, or until the rings are slightly browned and puffed up. Serve hot with a sprinkling of lemon juice.
Oven-Fried Calamari
Preheat your oven to 450 degrees Fahrenheit and line a baking sheet with foil. Place a small wire rack on top of it to make sure that the breading gets crispy all around on the calamari. If you don't have a small cooking rack that will fit inside of your baking sheet, simply grease the foil on the baking sheet with vegetable oil or cooking spray.
Beat an egg in a bowl and add a little water to create an egg wash. Pour flour in another bowl and panko bread crumbs in another. For a pound of calamari, you'll need about a 1/2 cup of flour and 1 1/2 to 2 cups of panko bread crumbs.
Dredge the calamari in the flour, then in the egg wash and finally into the panko bread crumbs. Gently pat the bread crumbs onto the calamari to help them stick.
Place the breaded calamari onto the wire rack or on the foil-lined baking sheet. Spray the calamari lightly with cooking spray.
Bake the calamari in the oven for about 15 minutes, until the breadcrumbs start to turn golden brown. Turn the calamari halfway through if you baked them directly on the baking sheet. Sprinkle the hot calamari with salt, to taste. Serve with marinara sauce and a sprinkle of lemon.
References
Heart of the Artichoke; David Tanis
Now Eat This!; Rocco DiSpirito
Writer Bio
Based in Los Angeles, Zora Hughes has been writing travel, parenting, cooking and relationship articles since 2010. Her work includes writing city profiles for Groupon. She also writes screenplays and won the S. Randolph Playwriting Award in 2004. She holds a Bachelor of Arts in television writing/producing and a Master of Arts Management in entertainment media management, both from Columbia College.
Photo Credits
Jupiterimages/Photos.com/Getty Images