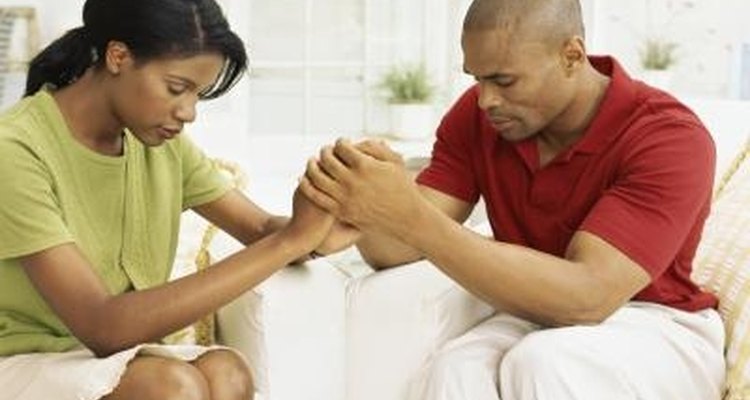 Stockbyte/Stockbyte/Getty Images
Marriage is a sacrament which is a blessing from God. To preserve its sanctity and strengthen the bond between man and wife, it's important to strengthen the emotional connection they have for one another. Playing games that emphasize the blessing of marriage through the eyes of the Lord will keep couples' faith and love alive.
The Newlywed Game
This game is based on the popular television game show "The Newlywed Game." When playing in a church ministry, think of questions about faith, emotions and other topics related to spirituality. Ask each spouse separately the set of questions you have come up with and then bring all the couples back together. Ask each person to guess the responses that his or her spouse gave to the questions. A couple receives a point each time one person gives the same answer as his or her spouse. The couple with the most points wins the game.
Your Marriage Trivia
Couples think of questions to ask each other about the marriage. These questions can be written on a sheet of paper with the answers. Each spouse takes a turn asking questions. The questions can be about what they did on the first date, when they first fell in love with each other, or when they knew they wanted to marry. If both spouses give the same answer, they win a point. The couple with the most points wins the game.
Puzzle Obstacle Course
In marriage, couples will face many challenges. Understanding that they can work together to solve problems will make the marriage strong. Before playing this game, remind each couple that two heads are better than one and advise them to work as a team rather than rely on the problem-solving of just one of them.
Set up three for four stations with a puzzle at each one. You can do a jigsaw puzzle at one station, a peg puzzle at another, a word problem at the third, and then a logic puzzle at the last one. Time each couple as they go through the puzzle obstacle course. The couple with the fastest time wins the game.
Love-You-When Game
After a few years, some couples forget to even say they love each other, never mind specifically mention their appreciation for the little things their spouses do. In this game, couples get a chance to express that gratitude.
Each spouse writes everything that he or she loves about his or her spouse. Tell the group members that they must write down as many as they can think of in five minutes. Once the time is up, have each spouse read off his or her list. If there are some things that a spouse does not want to share, that is acceptable. Have the couples total up how many things they love about each other. The couple with the most "love" wins.
Resources
Writer Bio
Marcelina Hardy began counseling in 2000 and started her freelance writing and editing career in 2006. She works as a group editor for the Web site, LoveToKnow and has also published on sites such as LendingTree. Marcelina has a Master of Science in Education in counseling from Old Dominion University and a Bachelor of Arts in psychology from University of Massachusetts at Amherst.
Photo Credits
Stockbyte/Stockbyte/Getty Images