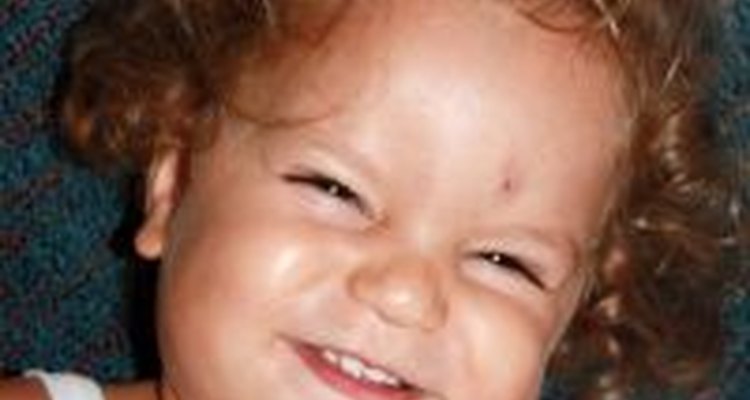 Hair clips make it easy to tame a baby's hair, which may be uneven, sparse or super fine. Decorative or holiday clips give parents a way to dress up baby's hair without using a hat. Colorful clips may also be used for baby girls who have short hair, when a mom wants to add a feminine touch to her daughter's look.
Step 1
Allow washed and damp hair to air dry before attaching a hair clip. Comb or brush baby's hair and find a natural part. When the hair is dry you will have a better idea of where to put the clip to control portions of hair.
Step 2
Open the clip you want to use once you have determined where to put the clip. Clips with large decorations can be used in pairs, or you may opt for one in a strategic location. Tiny clips may be used all over the head, to tame unruly baby hair.
Step 3
Gather a small section of hair strands in your hand and slide the underside of the clip through the hair, without pressing or scraping against baby's scalp. When the clip is in place, nudge the outer clip closed by pushing it gently toward the hair and the clip underneath the hair. It will snap shut.
Step 4
Place one or two hair clips close to baby's hairline to control bangs that are too short or that are growing out. Gather the bangs and pull them back, attaching the clip to the bangs and to the hair on the top of the head, holding the clip in place.
Step 5
Use baby hair clips with Velcro or with magnet closures for a more secure fit. When using clips with magnets, make sure the magnet pieces are secure and baby is not left unattended while wearing the clips.
Step 6
Open the clip and gently remove the hair strands before sliding the back side of the clip away from baby's head. If the baby tugs at the clip and pulls out strands of hair, use a headband or wait until the baby is older to use hair accessories.
Resources
Writer Bio
Pam Gaulin is a content specialist and copy writer whose clients have included Reebok, Zappos.com, Walmart, Butterfinger, Ball Park Franks, Modern Mom, McCormikc, Equifax, Transuion, Walmart, and many other notable brands. Her previous positions include editor of "Web Site Source Book," project leader for a K-12 database, business writer for a newsletter publisher and Happenings editor for "The Valley Advocate." Gaulin holds a Bachelor of Arts in journalism from the University of Massachusetts.