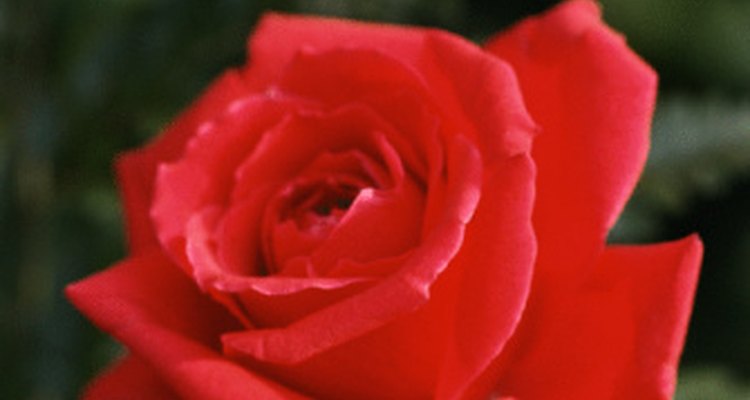 Jupiterimages/Photos.com/Getty Images
A single red rose is a special way to say "I love you" to a partner any time of year. A favorite for Valentine's Day, anniversaries and birthdays, the red rose has made it the most commercially available flower on the market. You can purchase a single red rose for someone in person at a florist or the floral department of a grocery story, or online.
About the Single Red Rose
The history of the red rose as a symbol of love and romance dates back to the Greeks, who associated the red rose with the goddess of love, Aphrodite. Around the 1800s, the familiar gift of the red rose came into vogue when introduced into modern European society by way of China. The beauty of the red rose is symbolic of a love stronger than the thorns on its stem. In recent years, the gift of a single red rose has become the de facto way of expressing love and fidelity on holidays, anniversaries and special occasions.
Florists
The most common place to get a single red rose is at your local florist. You can find your closest florist by looking in your yellow pages or performing an Internet search. Florists don't just do complicated bouquets and arrangements; most also provide single-stem roses. A benefit of purchasing a rose at a florist is that you generally choose from a larger selection and get a higher quality rose. Your red rose will also be fresher and should live longer. Most florists don't prepackage single roses, so you will likely have more control over how you want the rose wrapped.
Grocery Stores
Grocery stores with in-store floral departments also sell a variety of single-stem flowers and arrangements. Most single stem-roses at grocery stores come prepackaged with a wisp of baby's breath, then wrapped in tissue paper or clear plastic. Since flowers are not the grocery store's primary business, these roses may be less fresh and hardy than a florist's rose. Some grocery stores, however, do have high quality flowers. The roses sold at grocery stores are also generally more affordable than than ones sold at florists.
Online
Several websites online offer the option to send a single red rose to someone you want to surprise or who is far from you. Online florists such as 1800Flowers.com and Flowers-to-Send.com allow you to write a personal message to accompany your flower. Like when you purchase a rose at a floral store, online florists generally provide fresh flowers and give you options about how you want the flower packaged. Most online florists, however, charge a delivery fee in addition to the cost of the flower.
References
Writer Bio
Tatyana Ivanov has been a freelance writer since 2008 and has contributed articles to "Venus" and "Columbus Family." She continues to write humor pieces for a number of popular culture blogs. Ivanov holds a Bachelor of Arts in media studies from Hunter College.
Photo Credits
Jupiterimages/Photos.com/Getty Images