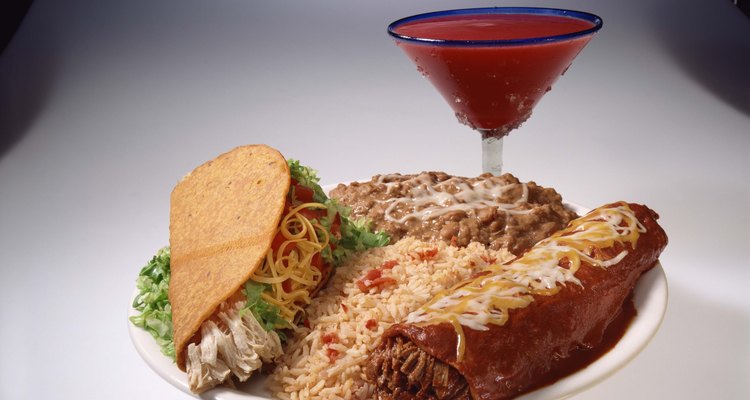 Jupiterimages/Stockbyte/Getty Images
If you're putting chicken tacos on the menu, a little shredded chicken goes a long way. You can shred a single large chicken breast and fill 12 tacos with the meat, which should yield 1 ½ cups, or 12 ounces. If you count on each guest eating three of your delicious creations, that works out to about 3 ounces of shredded chicken per person.
Two Experts Agree
Two giants of Mexican cookbook writing, Rick Bayless and Diana Kennedy, agree on the formula of one large breast sufficing for 12 chicken tacos. One breast may not seem like enough at first, but the chicken has plenty of savory company in the tortilla. Kennedy suggests poaching the shredded chicken with chopped white onion, jalapenos, chopped tomatoes and chicken broth. Then you can offer your family or guests queso fresco and shredded lettuce along with their tortillas and chicken filling. Bayless advises adding the shredded chicken to a sauce of roasted and sauted tomatillos and serrano chiles, along with onion, garlic and chicken broth. The filling joins queso fresco and chard or similar shredded greens in warm tortillas.
References
The Art of Mexican Cooking; Diana Kennedy
Writer Bio
An award-winning writer and editor, Rogue Parrish has worked at the Washington Post, the Baltimore Sun and at newspapers from England to Alaska. This world adventurer and travel book author, who graduates summa cum laude in journalism from the University of Maryland, specializes in travel and food -- as well as sports and fitness. She's also a property manager and writes on DIY projects.
Photo Credits
Jupiterimages/Stockbyte/Getty Images