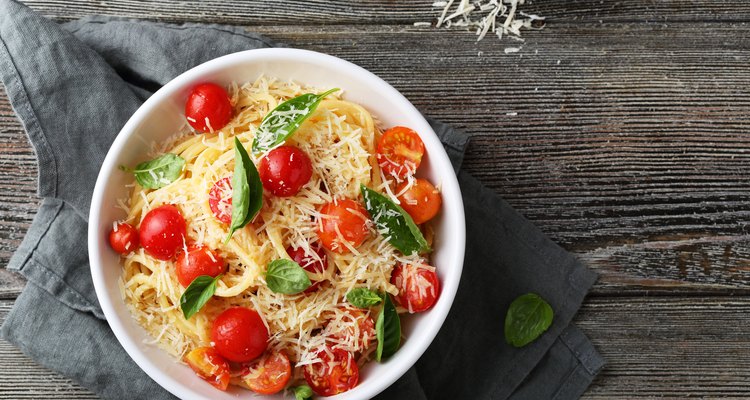 Olha_Afanasieva/iStock/GettyImages
Alfredo sauce, a thick, rich and creamy white sauce of Roman origin, is made traditionally with Parmesan cheese, cream and butter and served on fettuccine pasta. However, no recipe is carved in stone. Furthermore, in North America, chefs and cooks alike have a variety of ingredients to choose from, which allows for endless possibilities of adaptations to this classic sauce. Alfredo sauce made with cream cheese and eggs is a modern twist on the classic version and goes well with shellfish, salmon, chicken and vegetables.
Remove the cream cheese from the package and cut it into cubes; set it aside. Use light cream cheese for low-fat versions or spreadable cream cheese for quick and convenient methods. Turn on the stove to medium heat.
Melt butter in a saucepan, or if preferred, melt low-fat margarine for a lighter variation. Add chopped garlic and saute lightly until soft. Change the flavor profile by adding green onions, chives or sweet onions; saute until they are soft and the butter is flavored.
Add milk, cream or chicken stock. Simmer for one minute until combined. Crack the eggs; use whole eggs or egg yolks. To separate the egg yolk, move the yolk between the two shell halves, allowing the egg whites to fall into a small bowl.
Discard the egg whites. Temper the eggs by adding a small amount of the warmed milk and butter mixture into the eggs. Beat with a whisk to combine. Add the egg mixture back into the saucepan.
Turn the stove to low heat. Add the cubed pieces of cream cheese. Stir until the cream cheese melts and the sauce thickens.
Add chopped parsley, salt and pepper to taste. If preferred, add nutmeg, or cayenne pepper for heat. Stir the sauce to combine.
References
Tips
If the sauce becomes too thick, add additional milk, cream or chicken stock to thin it out. Refrigerate the sauce in a covered container within two hours after cooking. Freeze the sauce in an airtight container. To prevent the sauce from curdling, stir well while reheating. Alfredo sauce made with cream cheese and eggs pairs well with fettuccini noodles, seafood lasagna, vegetarian lasagna, baked chicken, smoked salmon and shrimp.
Warnings
The sauce solidifies when refrigerated. Prior to use, heat it gently, and add additional milk, cream or chicken stock, if required.
Writer Bio
Katherine Macropoulos has authored two books; a fictional, young reader and a spiritual autobiography. Her areas of expertise include food, beauty and style, travel, culture and society, business and spirituality. Macropoulos holds a Bachelor of Arts in English, a diploma in photography, graphic design and marketing and certification in esthetics.