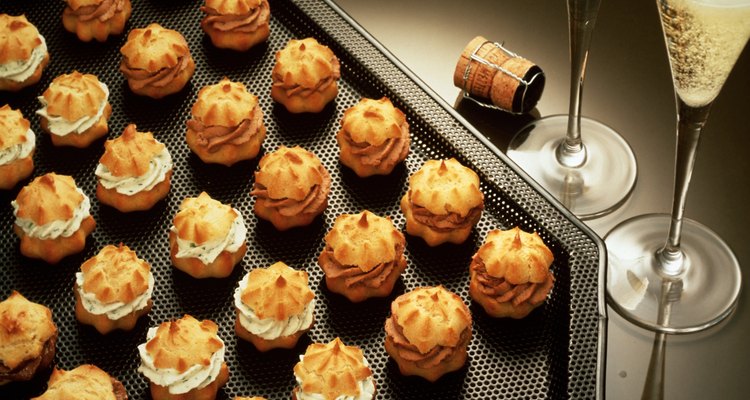 Eising/Photodisc/Getty Images
Pâte à choux, or choux pastry, is a light, fluffy dough perfect for cream puffs. However, because this dough is so delicate, it is prone to deflating. This usually happens because too much moisture has built up inside the pastry, which in turn weighs down the dough. Keep those cream puffs nice and airy by paying attention to baking times, color and moisture content.
Step 1
Arrange racks at the top and middle of the oven and preheat the oven to at least 400 degrees Fahrenheit. High heat expands the dough quickly and helps dry out the middle of the pastry
Step 2
Place dough balls onto the pans and into the oven and let cook for about 20 minutes. Rotate the pans from the top to the bottom and the front to the back halfway through; this ensures that all of the cream puffs receive equal heat throughout baking.
Step 3
Once the puffs turn golden brown, remove one from the oven and cut it in half. Turn off the oven if it is dry inside. If the inside is not yet dry, continue baking for another five minutes before checking again.
Step 4
Poke each finished puff a couple of times with a toothpick to let in warm, dry air.
Step 5
Leave the puffs in the oven with the door open a crack until they reach room temperature. If your oven door doesn't stay open on it's own, prop it open with a wooden spoon.
Step 6
Cut open each puff when it's time to fill them and remove any moist dough with your fingers.
References
Tips
Open the oven door as few times as possible to keep dry air inside the oven and the puff pastry.
Remove the puffs from the oven only after they have fully baked; half-baked puff pastry will deflate once you remove it from the oven.
Writer Bio
Based in Halifax, Nova Scotia, Jordan Whitehouse has been writing on food and drink, small business, and community development since 2004. His work has appeared in a wide range of online and print publications across Canada, including Atlantic Business Magazine, The Grid and Halifax Magazine. Whitehouse studied English literature and psychology at Queen's University, and book and magazine publishing at Centennial College.
Photo Credits
Eising/Photodisc/Getty Images