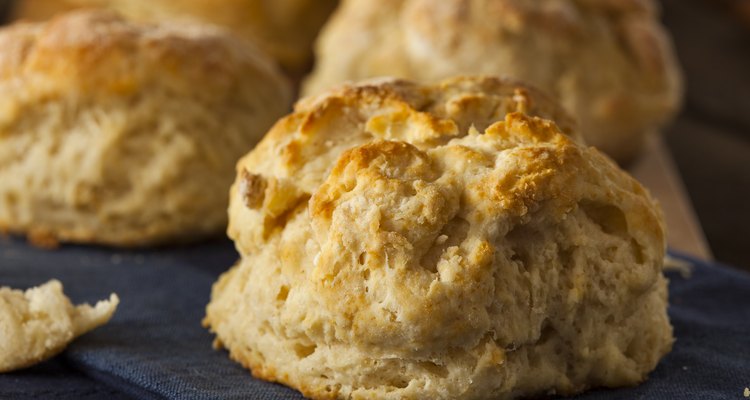 bhofack2/iStock/GettyImages
Chafing dishes outperform the oven when it comes to keeping biscuits warm, and give them an extra 20 to 30 minutes of freshness if you take advantage of residual baking heat. Chafing dishes comprise stainless-steel or aluminum, making them dual-purpose -- you can bake and serve the biscuits in the same chafer. By baking and serving in the chafer, the biscuits go from hot to warm slowly and avoid the cool-down that speeds drying out.
Baking the Biscuits
Line the chafing dish with parchment paper and bake the biscuits in it according to the recipe, usually at 450 degrees Fahrenheit for 10 to 12 minutes. Set up the chafing dish while the biscuits bake.
Setting Up the Chafer
Fill the water pan with 1 inch of hot water and set it in the chafing stand. Light the canned chafing fuel, using 1 or 2 cans, depending on the size of the chafing dish. Place the fuel cans in their holders in the chafing stand under the water pan, then place the chafing dish's lid on the water pan to keep the water warm until the biscuits finish baking.
Keeping the Biscuits Warm
Take the chafing dish of biscuits out of the oven and immediately set it inside the water pan. Cover the chafing dish with the lid. The biscuits will stay warm as long as the chafer has fuel, but expect them to start to harden after 30 minutes.
If You Bake Separately
If you need more biscuits than you can fit in the pan of your chafing dish, or just prefer to bake them separately, most of the same preparation applies. Fill and preheat your chafing dish while the biscuits are in the oven, and then transfer the biscuits to your chafing dish as soon as they're baked. If you'll be doing multiple batches, take the old ones out when each new batch comes in. You can either replace them on top of the fresh batch, so they'll be eaten first, or remove and discard them.
References
Writer Bio
A.J. Andrews' work has appeared in Food and Wine, Fricote and "BBC Good Food." He lives in Europe where he bakes with wild yeast, milks goats for cheese and prepares for the Court of Master Sommeliers level II exam. Andrews received formal training at Le Cordon Bleu.