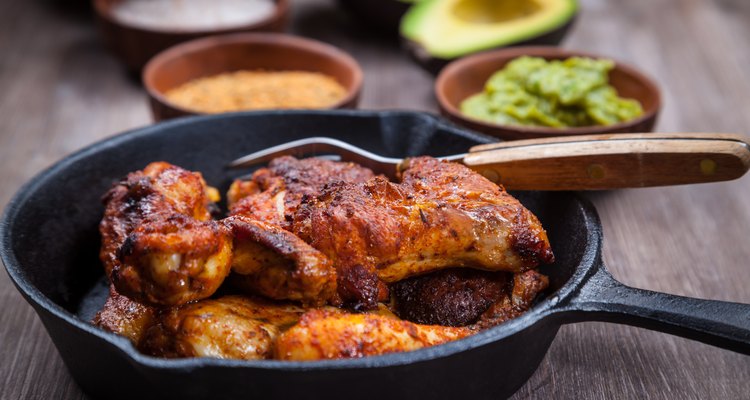 brebca/iStock/Getty Images
Chicken wings are a cost-effective food that is familiar to guests and easy for you to prepare. Purchasing pre-cut chicken wings saves you time. Cooking the chicken wings is not necessarily difficult, but keeping them warm and being able to serve them hot can be a challenge. By combining some cooking methods and staying organized you can make chicken wings for a crowd with minimal stress.
Flash Frying
Flash frying is a method of deep frying where foods are cooked at an increased temperature so they cook very quickly, or "in a flash." To flash fry chicken wings, the wings must be thawed and as dry as possible. Whenever you are frying any food, it is important to remove any excess water from the foods. When water and hot oil mix, the oil reacts in an almost explosive way which causes it to bubble up or overflow, creating a potential fire hazard. If you are going to flash fry the chicken wings, heat the oil to 400 degrees F. You must use an oil that can withstand this type of heat. Chef Rocco Dispirito recommends grapeseed oil. Cook seasoned chicken wings in batches, which helps you to keep the chicken wings fresh and hot for guests. Serve with dipping sauces on the side or lightly toss the chicken wings in buffalo or barbecue sauce.
Broiling
Broiling is a quick process that involves minimal prep and cleanup. To broil chicken wings, preheat your over broiler on high. Place thawed chicken wings on a baking sheet and season with salt, pepper and other seasonings. If you wish, you can line the baking sheet with aluminum foil before adding the chicken wings to keep cleanup to a minimum. In some ovens, you can fit two baking sheets of chicken wings side by side so that you can replenish them regularly. Cook the chicken wings on the top rack underneath the broiler for five to seven minutes. Remove the wings when the chicken is opaque, slightly brown and crispy. Toss in sauce or serve with sauce on the side. Store the wings in a sealed container between service to help them maintain their heat.
Pan Frying
You can also pan fry the chicken wings. The key to keeping them hot is precooking them and maintaining their heat in an oven. Heat 1 inch of vegetable oil in a large skillet on medium high heat. Slowly add seasoned chicken wings to the oil and cook each side for four minutes or until they become golden brown on each side. Preheat your oven to 300 degrees F and store cooked wings in the oven until you serve them.
Mobile Heating
If you must cook the chicken wings and transport them to another location to serve them, consider purchasing a heating system that uses chaffing dishes and "canned heat." Canned heat, is a combination of denatured alcohol, water and gel that you light and place under a chaffing dish, a system that uses a supported double aluminum pan. Fill the outer pan with water; the inner pan sits above the hot water and holds the food. The lit chaffing fuel maintains the temperature of the dish and guests can serve themselves.
References
Writer Bio
Shemiah Williams has been writing for various websites since 2009 and also writes for "Parle Magazine." She holds a bachelor's degree in business and technology and a master's degree in clinical psychology. Williams serves as a subject matter expert in many areas of health, relationships and professional development.
Photo Credits
brebca/iStock/Getty Images