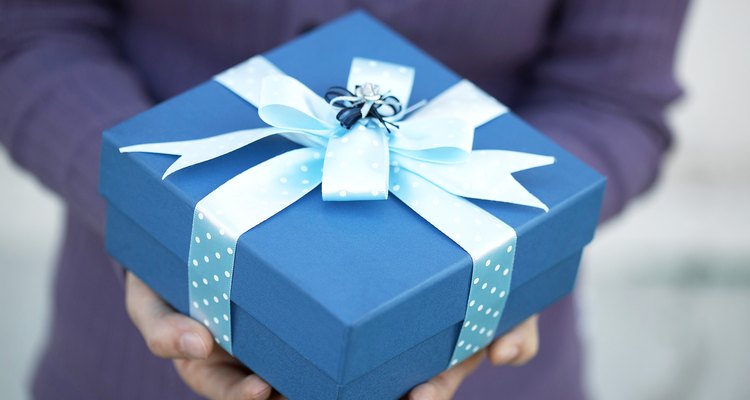 TongRo Images/TongRo Images/Getty Images
An anonymous gift or card offers the chance to show encouragement or offer assistance, simply because you're inspired to do so. If you are giving the card or gift of your own volition, rather than as a collective effort to help a group in need, drop the card or gift off while the recipient is away from her desk or home, or mail it if the message or gift is contained in a card.
Caring, Through Cards
At various times in life, you'll come across people who seem to be having a tough time: a coworker struggling with a difficult home situation or an acquaintance who lost a job, for instance. Offer words of encouragement in a card by choosing a greeting card with an appropriate sentiment, or better yet, typing up your own message to help uplift and remind the recipient that she is appreciated and valuable, regardless of circumstance. A card with a bit of cute humor or silly animal images may help cheer up an acquaintance who hasn't seemed happy for a while, but add a few encouraging words to the message to avoid trivializing the situation. Sign the card with, "a friend who cares," or "someone who appreciates you," or select a signature that means something to you without revealing your identity. "Anonymous" is an option if you can't think of anything appropriate. Drop the card off at the coworker's desk while she is at lunch, or deliver it by mail to a neighbor or an old friend listed in your address book. While an anonymous e-greeting is an option, it may go unopened if the recipient isn't expecting the message.
Group-Based Gifts
If you belong to a community group or faith-based organization that arranges gifts for others in need, you may only know the age and gender of the recipient, if it's for a child or teen. For an adult, the information may be even more limited. Consider the organization or potential situations facing the recipient to choose appropriate gifts. For instance, residents in a temporary or transitional family shelter may have few personal belongings. Package an age-appropriate gift for a child or teen, such as a book full of uplifting stories or a backpack filled with some art supplies. Add a few toys for young children or a jewelry crafting kit for a tween girl. Offer adults warm hats and scarves if they may not have their own or a wallet or shoulder bag, or even a set of bath towels if the recipient has a space of her own.
Offering Abundance Through Gift Cards
In some cases, a gift card is one of the most useful items you can offer, and it is small enough to slip into an envelope to tape to a neighbor's door or sneak it onto a coworker's desk. Offer the type of card most useful to the recipient; for instance, a coworker who lives far away and can barely afford the drive into town may appreciate a gas card for a gas station along the way, while a prepaid bus pass suits a bus commuter. An unemployed family down the street may appreciate a gift card to a nearby department store that sells both groceries and home goods; such a card allows them to spend the card in the way that addresses their needs the most. Gift cards work best for recipients you know at least on an acquaintance level -- mailing or gifting them to strangers may mean the cards are traded for other things.
Food and Useful Goods as Gifts
If you wish to offer food-based gifts to a family during a holiday season or to a family experiencing severe financial stress, opt for general non-perishable goods such as pasta, boxes of cereal or rice or holiday trimmings such as stuffing mix, canned vegetables and cranberry sauce. Loaves of bread and fresh produce are options if you can leave the goods at the door and the family can receive them within a few hours during cool weather. If a grocery store offers a delivery service, you may be able to shop for the family and have the food delivered anonymously during a time when the recipient is home. For a family with children, holiday gifts are an option, such as toys, games and craft sets for the kids. Offer gifts of blankets, towels, hats and scarves or items you feel the recipient will appreciate, or pet treats for the family pet. Leave a note with the gift so the recipient understands the mysterious package left at the door. Gift coworkers with plates or boxes of homemade treats, arriving early to place the snacks at desks before others arrive.
References
Writer Bio
Kathy Adams is an award-winning journalist. She is an avid DIYer that is equally at home repurposing random objects into new, useful creations as she is at supporting community gardening efforts and writing about healthy alternatives to household chemicals. She's written numerous DIY articles for paint and decor companies, as well as for Black + Decker, Hunker, Kroger, SFGate and others.
Photo Credits
TongRo Images/TongRo Images/Getty Images