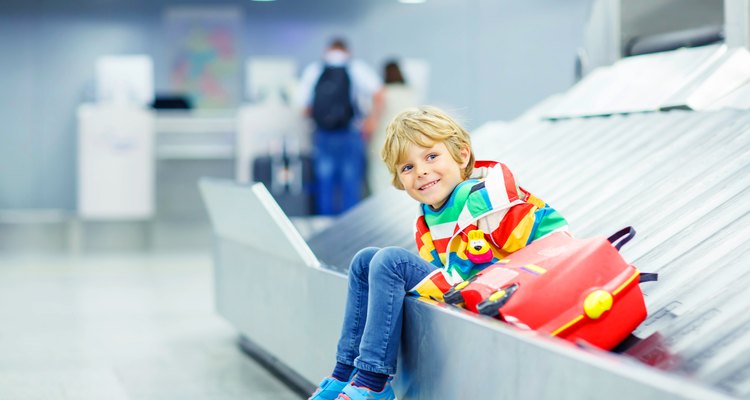 romrodinka/iStock/GettyImages
How to Keep Stress Low and Fun High
Traveling the world builds memories that last a lifetime, but doing it with kids presents some unique challenges. If a 45-minute drive to grandma's house brings choruses of "Are we there yet?," you'll have your work cut out for you on an intercontinental flight lasting most of a day or a night. International travelers need to be prepared for credit card problems or unexpected flight delays, but parents toting kids have a few extra things to think about. Here are six of the most valuable travel-with-children tips.
1) Get Travel Documents Early
The farther ahead you get passports and other necessary documentation, the less stressed you'll be as the departure date gets closer. A normal passport renewal or application takes six to eight weeks for processing, and visas can take much longer depending on the issuing country. Check the U.S. State Department's website for every country you'll be visiting to make sure you'll have all the necessary documents every step of the way. If traveling by yourself with kids, it's especially important to have custody documents or a child travel form that explicitly grants permission from the other parent to bring the kids through each country on the itinerary. Child abduction and child trafficking are taken very seriously, and without that letter every border has the potential for excruciating delays. The state department recommends leaving copies of all important documents at home with a trusted friend, and bringing copies with you in a separate bag from the originals in case those go astray.
2) Offline Entertainment Is Your Friend
In-flight entertainment is often available, but you'll also have to keep the kids distracted and entertained through an endless procession of waiting rooms, lineups and evenings away from their favorite diversions. Bringing along a phone, tablet or hand-held gaming system helps, but bear in mind you'll pay a steep price to use data in other countries. To keep costs down, load up devices with games, music, movies and other offline entertainment options before leaving home. Card games, folding board games and compact toys are good options too.
3) Pack Food—Lots and Lots of Food
On a related note, nothing makes little travelers crankier than an empty belly and low blood sugar. As far as that goes, it won't do much for your mood either. Make space in carry-on bags for plenty of snacks, along with a few more substantial edibles to fend off serious hunger pangs. Energy bars are a good option. And nuts, dried fruits and most other road-worthy snacks are suitable for in-flight munching. Unfortunately, kid-friendly favorites like yogurt, jam, peanut butter and dips are classed as liquids or gels and are subject to TSA's 3-1-1 rule: They've got to be in sizes of 3.4 ounces or smaller, fit into a 1-quart bag and only one bag per carry-on. Baby foods, formula and breast milk are exempt from the liquid rule, and the TSA allows you to bring onboard a reasonable quantity.
4) Bring Extra Meds for Everyone and Document Them
If any one of your group needs medications while traveling, whether prescription or over the counter, bring them along. In fact, bring extras in a separate waterproof bag or container, in case you're delayed returning home or lose the bag containing your main stash. It's never a bad idea to pack anti-nausea medications, anti-diarrhea pills and a small first-aid kit. Before leaving home, ask your doctor to write a letter detailing all the prescription and nonprescription medications you plan to bring. Some countries have strict regulations about which medications can be brought in, and the state department recommends a doctor's note as a hedge against potential difficulties at the border.
5) Dedicate a Carry-On Bag to Emergency Items
Having checked bags go off on their own separate vacation is an unhappy scenario at the best of times, but it can be a real nightmare when you're traveling with kids, so designate one carry-on as the emergency bag. It should hold a couple of days' clothing for everyone, necessary medications, copies of travel documents, a cherished toy or two and snack foods. That way, in a worst-case scenario, you've got everything you need for two or three days while the airline finds your baggage and returns it to you. Having an emergency bag can make the difference between business as usual and the vacation from hell.
6)  Invest in Global Entry
Beginning or ending your trip with a lengthy wait at the security screening line can take some of the luster away from your vacation. Seriously, cooling your heels forever in a long line while keeping a kid or three entertained is nobody's idea of a good time. When planning a vacation budget, think seriously about signing up for the Department of Homeland Security's Global Entry program. Just like the TSA PreCheck program for domestic travel, Global Entry lets you use the expedited screening lane, keep your belt and shoes on and your carry-ons packed. It's $100 per adult for five years of quick screening, and kids 12 and under go right through the line with you. Five minutes to go through screening sounds a whole lot better than 25 or 35 minutes, right? Right.
References
Writer Bio
Fred Decker is a trained chef and certified food-safety trainer. Decker wrote for the Saint John, New Brunswick Telegraph-Journal, and has been published in Canada's Hospitality and Foodservice magazine. He's held positions selling computers, insurance and mutual funds, and was educated at Memorial University of Newfoundland and the Northern Alberta Institute of Technology.