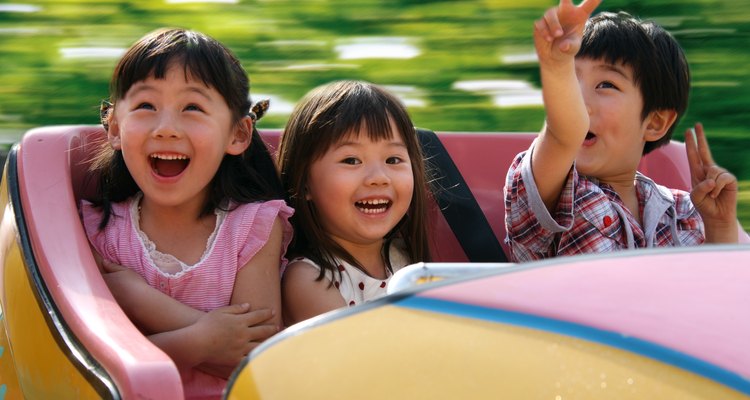 View Stock/View Stock/GettyImages
Need-to-Know Rules: What You Can Bring to Universal Studios Hollywood
Universal Studios Hollywood allows you to bring in some food and water into their theme park, but the rules are much more restrictive than those at Disneyland. Learn what you need to know to help save a little cash when you visit "The Entertainment Capital of LA."
Water Bottles and a Few Healthy Snacks
Upon your arrival to Universal Studios Hollywood, your bags will be checked by security. If you have empty water bottles not made of glass and a few small snacks, you'll be allowed to bring them in. Food doesn't have to be packaged snacks, either. Fresh fruits and vegetables are allowed. And you'll find water fountains in the park so you can refill your water bottles.
However, if staff think you're bringing in too much food, there's a chance they'll ask you to throw it in garbage bin.
Special Needs Foods and Supplies
You can bring anything required for special dietary needs and medical purposes, including nutritional supplements, into the park. Just explain that you have medically-necessary foods when you enter the park. Baby foods and formula are also allowed in without restriction.
If you're worried about whether Universal's restaurants will be able to accommodate your dietary restrictions, check online for their Dietary Food Guide. You can consult it to determine which restaurants and menu items are gluten-free, dairy-free, peanut-free or vegetarian.
Only Small Soft-Sided Cooler Bags
Hard-sided coolers aren't allowed, but you can bring your food in a soft-sided insulated bag. The size is restricted, though; cooler bags can't be larger than 8.5 inches wide by 6 inches high by 6 inches deep.
It's easiest to carry your insulated bag and other essentials for the day in a backpack. Keep in mind that each compartment of the bag will be checked at the park gate, so it's faster to have a bag with just one or two compartments. If you don't want to carry it around for the whole day, be sure it fits in a locker.
Lockers
Universal Studios Hollywood has lockers that you can rent for the entire day, with an unlimited number of access. You can use either cash or credit cards for the three different-sized day lockers:
Small, $8 is 12.75 inches high by 11 inches wide by 16.5 inches long

Medium, $12 is 16 inches high by 8 inches wide by 16 inches long

Large, $15 is 21.5 inches high by 11 inches wide by 16 inches long

No need to worry about fitting any Universal merchandise that you want to buy into your locker. If you ask, staff will send your purchases to the Universal Studio Store near the exit so you can pick them up just before you leave.
Universal also has small free lockers to temporarily store your stuff while you go on the wilder rides, on which any loose articles (even coins or phones) could be dangerous. These lockers are 10 inches wide, 10 inches tall and 16 inches deep. They're timed using the ride's current wait time and the duration of the ride, with an extra cushion of time just in case. You'll be charged an extra $3 per hour to a maximum of $20 per day to use the locker longer.
Temporary Restrictions
If you're brave enough to come to Universal Studios for Halloween Horror Nights, the park has additional restrictions as to what you can bring into some parts of the park, including water bottles.
In 2015, Universal Orlando temporarily banned guests bringing in full bottles of water for a few days. Guests had to empty them before entry, but they could bring the empty bottles inside and refill them at a fountain. Keep in mind that parks can change their rules without warning.
References
Writer Bio
Johanna Read is a Canadian freelance writer and photographer specializing in travel, food, and responsible tourism. Writing for a variety of Canadian and international publications, she likes to encourage travel that is culturally, economically, and environmentally sustainable. Links to all her travel stories are at www.TravelEater.net. Follow her on Twitter @TravelEater and on Instagram @TravelEaterJohanna.