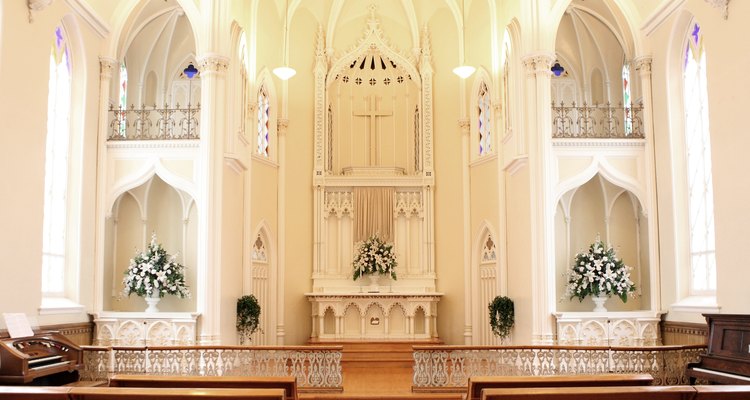 Peter Kim/iStock/Getty Images
As a focal point for most parishioners, the altar and its flower arrangements set the tone for a church service. Fresh, vibrant flowers and greenery reflect the seasons and the church's message. Keep arrangements for multiple services with proper maintenance, including light watering and pruning. Grow plants, such as palms, at home to supply cuttings that can be harvested for events throughout the year. Your church altar guild can save money by choosing flowers that are in season in your area.
The Christmas Season
Poinsettias are an obvious choice for decorating the church and its altar during Advent and the Christmas season. Evergreens also add interest and texture to Christmas arrangements. Use pine wreaths, which represent eternal life, to encircle candles set in hurricane holders. Arrange holly and boxwood in vases, and nestle a nativity in baby's breath to give the appearance of freshly fallen snow. The evergreens and baby's breath will last long enough to decorate for Epiphany Sunday, when the whites and greens of these plants will stand out against a gold backdrop or on gold pedestals.
Lent and Lilies
Keep altar arrangements simple during Lent. Small, simple flowers and eucalyptus branches work well when arranged with the Trinity in mind. Use palm fronds and ferns to replace flowers on Palm Sunday. Wreaths with a woodland theme make subtle decorations for Good Friday and Holy Saturday, and are reminiscent of Christ's crown of thorns. On Easter Sunday, feature white Asian lilies as the altar's focal point, but display hydrangeas, tulips and other bright, spring flowers for colorful accents. Cut the stamens off the lilies before bringing them indoors or the warmth inside will cause them to drop pollen that can be difficult to remove.
Dramatically Simple
Altar arrangements do not have to be complicated to be beautiful. Large vases full of baby's breath look like airy clouds, while a basket full of baby's breath makes a large yet delicate arrangement. Cuttings from flowering dogwood trees look striking in tall slender vases. Arrange apples or pears to to add stability and color to plain glass vases; fill the vase with fruit, add bunches of short-stemmed flowers and a spray of papyrus for dramatic effect.
Locally Foraged
Use local plants and flowers that are in season to not only save money, but establish a connection between the church's message and the local community. In autumn, gather dried grasses to add to arrangements. Slender twigs add texture to flower arrangements; spray painted them white, accent them with glitter or leave them natural. Ask members of the congregation to donate cut flowers from their gardens. Display roses, peonies and daisies set against greenery to make colorful arrangements in the spring and summer.
References
Writer Bio
Sarah Cairoli began her writing career in 2002, as a reporter for the "High Country Independent Press" in Belgrade, Mont. She then spent two years writing and editing for an online publishing company, and earned her master's degree in English from Northern Arizona University. Cairoli also writes for "Bozeman Magazine."
Photo Credits
Peter Kim/iStock/Getty Images