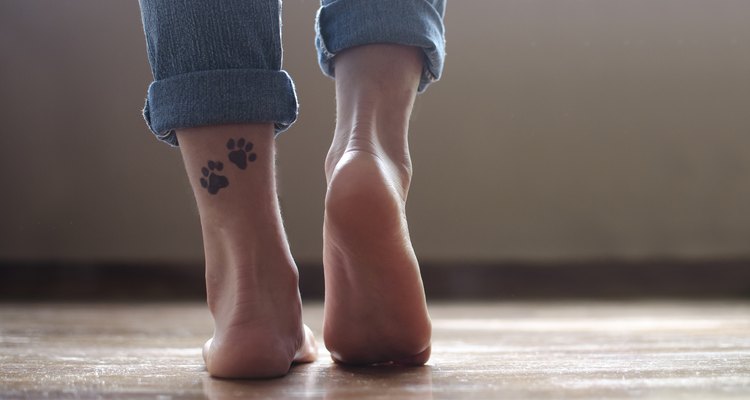 ceciangiocchi/RooM/GettyImages
When your dog digs in the trash, you might want to charge him with a misdemeanor, haul him downtown, and have him printed and booked. But there may be another reason you'd like his paw print. Even though he's naughty, he's still put his paw print all over your heart. A tattoo or other art work of your dog paw print can memorialize him forever in ink. Printing the paw is the first step, and from there you can use your imagination to create a piece of work you'll be proud to display forever.
Prepare your dog's paw
To get the best results when making a dog paw print, it takes more than just grabbing an ink pad and a piece of paper. If you're memorializing your dog in the form of a real paw print tattoo, you want to prepare her paw to give you the best possible result when printing.
First, clean her paw well with a washcloth or pet wipe. Make it as clean as possible, with no pieces of lint from the washcloth stuck in her pads or on her claws. Make sure you clean between her pads to remove any debris, because the print will be of the bottoms of her paw pads.
If her nails are too long, that can interfere with getting a good print. Arrange for her to get a proper pedicure so her nails don't interfere with printing. Trim her nails properly prior to printing or visit your groomer to make sure her paws are in tiptop shape. The ASPCA recommends trimming your dog's nails if you can hear them clicking, so maybe she needs a pedicure anyway! If your dog has a lot of fur around her pads, a visit to her groomer might be in order. This fur should be removed so it doesn't interfere with her paw print.
Creating the paw print
Once your dog's paw is prepped, it's time to create his print. You can use a nontoxic paint and brush and carefully paint his pads, or you can choose a nontoxic ink pad. If you choose the ink pad, press his paw into the ink or roll the ink onto his pads. You may want to have a helper with you for this step so that someone is holding him. If he's moving around too much, he may smear the ink or get ink on furniture or other things you don't want the ink on.
Use treats so that he sees this activity as something positive. Once you have the paint or ink on your dog's paw, press it firmly onto a sheet of clean white paper. You may want to make several prints so that you can choose the best print once you review your results. Have some supplies handy so that you can clean up his paws after you're done with the inking, so that the ink doesn't get all over everything when he starts to walk away.
Designing your dog paw tattoo
Once you've printed your dog's paw print, you can head off to your favorite tattoo artist, or you may want to add something to the print to finalize your design. The options are unlimited. You may choose to incorporate your dog's name into your tattoo, his date of birth, or perhaps a heart if your dog has already passed. There are many examples online of ways to turn this into artwork, such as a watercolor paw print tattoo, or even just framing the paw print in a nice frame.
The tattoo process
If you're not sure what you want your tattoo to look like, look around for some inspiration or visit a professional tattooist to get their suggestions. Choose a reputable tattoo artist to complete your tattoo. Present your design or ask your artist to embellish upon the paw print and create your design for you. If you are not completely happy with the tattoo you've designed, your tattooist can modify it for you.
Professional tattooists have machines that can increase or reduce the final size of your design, if you're struggling with finding the perfect size or placement of it. Prior to visiting your tattoo artist, educate yourself on the risks and precautions of tattoo art.