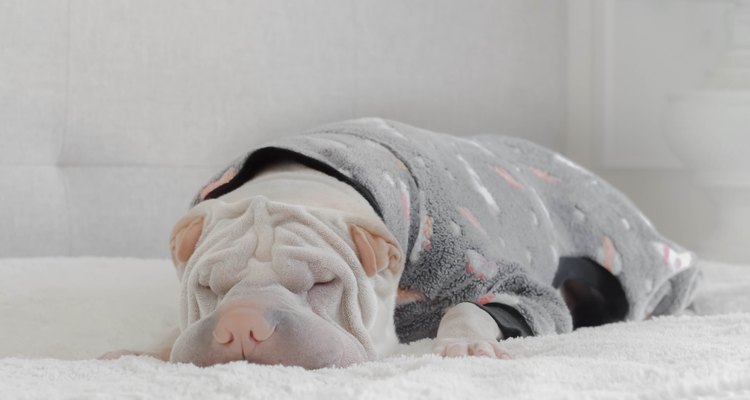 anniepaddington/RooM/GettyImages
Although there are a lot of dog clothes available, there are even more clothes for human children. Since there are so many options for baby clothes such as onesies, you can use that to your advantage to make a one-of-a-kind dog onesie from cute, new baby clothes. You can even make dog clothes that match your own clothes, and is there anything cuter than that?
You might not even need to do any sewing at all! DIY Projects shows how to make a couple of simple cuts on a sweater sleeve to fit a small dog such as a Chihuahua. Take a look through your closet and see if you have any sweaters that you are no longer wearing. If you have a small dog such as a Chihuahua, you may be able to craft a stylish coat or shirt from the sleeve of your sweater rather than having to use a whole garment.
Dog onesie
The "lampshade" goes around their neck in a cone shape and prevents them from reaching the troubling areas on their skin. A dog onesie does a similar thing except that it is said to be more comfortable for the dog to wear than the cone. Unlike with the big cone collar, the dog has full range of his vision and movement. The post-surgical dog onesie does its job by covering the skin, so the dog is less likely to be tempted to lick or chew where it shouldn't.
There is a commercially made dog onesie called Cover Me by Tui. This product was developed in part because many dogs don't like the "lampshade collar." These are sometimes called E collars because of their resemblance to Elizabethan collars. After surgery or any kind of medical procedure, many dogs have a hard time not licking or chewing their stitches or other irritated spots on their skin.
Shed defender
Another product called the Shed Defender is like a full body dog leotard. The purpose of a product like that one is to prevent dog hair from getting places where you don't want it, like in your car, on your couch, or if you're traveling. A dog shedding suit doesn't have to be store-bought, however, you can make a dog onesie or cut other clothes to fit your dog.
Admittedly, making a dog onesie will be easier if you have a small dog. Particularly if you don't want to have to do much sewing, or any at all, a baby onesie is a great choice for an outfit for a small dog such as a Chihuahua or a Boston terrier.
Making your dog onesie
Babies outgrow their onesies so fast that giving them a second life as clothes for your favorite dog just makes sense. A baby onesie is an obvious choice because it has arm holes and leg holes that can be adjusted to fit your small dog. Follow a step-by-step process to make a dog leotard or dog onesie instead of winging it.
Step 1: Gather your materials
You will need a few basic supplies:
scissors
needle and thread or sewing machine
fabric pen or fabric chalk
your dog, for sizing and marking the position of the tail
Choose the correct-size onesie for your dog. Baby onesies come in a range of sizes, from premature baby sizes (these are extra small) to 12 to 18 months that generally hold up to 27 pounds. Beyond that, most babies no longer wear onesies.
Care.com has a size list to help you figure out the answer to the question, "What size baby clothes fit my dog?" They suggest the following baby clothes sizes. Most baby clothes tags are categorized by age in months rather than by weight.
Newborn
Weight: up to seven pounds

Zero to three months
Weight: seven to 12 pounds

Three to six months
Weight: 12 to 16 pounds

Six to nine months
Weight: 16 to 20 pounds

Six to 12 months
Weight: 17 to 22 pounds

12 to 18 months Weight: 22 to 27 pounds
For larger dogs, choose the larger sizing. Check the sizing of the onesie before you get started. Place the onesie over your dog's head, with his front legs going through the armholes. Once you confirm that it covers him well, take it off and prepare for the next step.
Step 2: Start cutting
The snaps that hold the onesie closed need to be removed. Cut a straight line on the bottom of the onesie to remove the closures. This simple cut creates a doggie T-shirt that has arm holes and is open on the end that goes around their waist.
Step 3: Hem and sew
The edge that you just cut should be hemmed, either with needle and thread or a sewing machine. To do this, simply fold over the edge and tack it down with a sewing machine or needle and thread. It is easier to sew it if you hold it together with pins while you are sewing.
Step 1: Create a dog leotard
Create a dog leotard instead of a T-shirt. For this option, you'll want a fabric pen or fabric chalk. This will allow you to make some marks on the fabric to indicate your cut lines. The fabric pen is washable, so when you wash the dog leotard the marks will come out.
Place the correct size onesie on your dog and mark the area on the onesie where your dog's tail is located using the fabric pen. Remove the onesie from your dog.
Step 2: Make a hole and hem
Cut out a hole for your dog's tail. Then, hem the raw edge of the tail hole by folding it under and tacking it down with a needle and thread. This finishes the edge and keeps it from unraveling. Place the onesie on your dog and attach the snap closures underneath.
Saving money
That's all there is to it! It does get expensive to dress your pet in stylish clothes, so by making your own, you can give your dog custom looks and save a ton of money. With a little sewing skill, you can turn just about any small T-shirt into a cute shirt for your dog. You may find that your dog looks so cute that your cat wants some clothes of her own!
For this project, you can use clothes that your baby has outgrown that you want to give new life to. You can also find a lot of great, affordable clothes at thrift stores. Add fancy touches such as fur trim or ribbons to make your dog's clothes extra special. If you do use decorative trims, just make sure that they are sewn on well so that your dog can't chew them off and accidentally swallow them.
References
Tips
Many veterinarians now turn to doggy shirts as a post-surgical alternative to cones, especially for spay and neuters. By covering the abdominal region, the shirts keep your dog from licking her sutures.
Full bodysuit onesies work for keeping doggie diapers in place when your female dog is in heat. As an alternative to doggie diapers, place a feminine pad inside the bodysuit.
To add a little bling to your onesie shirt, sew a little tutu to the bottom and create a doggie dress.
Warnings
Make sure to remove and clean shirts that get dirty, or covered in urine or feces.
Writer Bio
Vanessa has a bachelors in chemistry and enjoys sharing her love of science with others. She provides articles for print publications across her region, as well as online publications. Her work covers a variety of topics with a particular emphasis on business and finance, science, food, and travel.