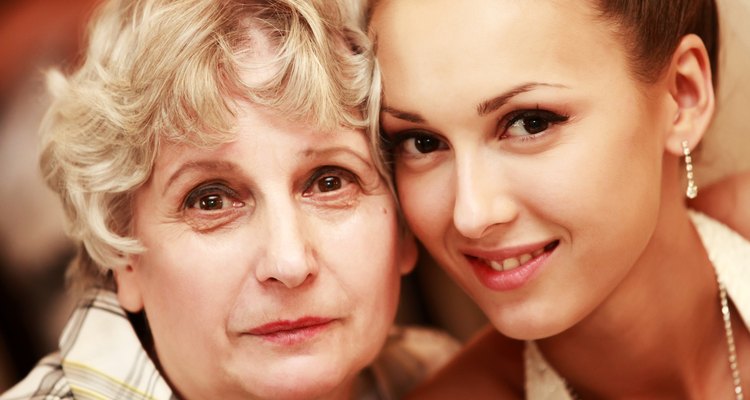 Morozova Tatiana/Hemera/Getty Images
Today's couples design their own wedding programs with personality and flair. Many couples choose to honor their grandparents -- living or deceased -- in the programs and are doing so in a variety of manners. Wedding days are happy, so both living or deceased grandparents should be celebrated as part of the history of the family and the lives of the newlyweds.
Living Grandparents at Wedding
Couples who are fortunate enough to have their grandparents in attendance on their wedding day should honor them by mentioning them in the program. If there are grandmothers at the wedding, they are traditionally seated after the mothers; the program will list it as "The Seating of the Grandmother(s)" and name the song that will play. The wedding party, which includes the family, will be listed after the ceremony agenda. The grandparents of the bride will be listed, and then the grandparents of the groom. You can select the formality of how the names are written; just stay consistent throughout the list. Either Mrs. and Mrs. Robert Jones or Bob and June Jones are both correct.
Living Grandparents Not at Wedding
There are cases where grandparents are still living but unable to make it to the ceremony. Couples can still recognize their living grandparents who are not in attendance by writing a paragraph on the back of the program. It should say something to the effect of, "We would like to recognize our loved ones who couldn't travel to be with us today. We know they are here with us in spirit." List their names below the paragraph. If it is just one grandparent, you can write a personal message. "Beth would like to thank her grandmother, June Jones, who could not make the trip today, for love and support. June is with us all in spirit and we all miss her presence." Be clear that the people are alive but not able to attend.
Deceased Grandparents
There is a void when there are loved ones missing from a family celebration. Weddings are a happy occasion, but it can get emotional thinking about grandparents not living to see their grandchildren's nuptials. Designate a section to recognize those who have passed. It can be as simple as, "In Loving Memory" or "We Remember" with a list of names and relationships. It can also be a small paragraph that the couple writes about how meaningful their family is and how they will remember them on their wedding day.
Other Recognitions
Couples can recognize grandparents, living or deceased, in the ceremony and note it in the program. Flowers or candles placed at the altar can be in memory of the deceased or in honor of the living. Note this in the program by stating whom they recognize. For a more casual wedding, a deceased grandparent can be memorialized by including a sentimental photo of the bride or groom with the grandparent in the program. A poem can be written or printed in the program in honor of those who are deceased or cannot attend. Select his or her favorite Bible verse or writing excerpt. Incorporate something personal into honoring their memory.
References
Writer Bio
Caroline Baldwin, a corporate communications director located in South Carolina, began writing in 1998. Her work has been published in publications across the United States and Canada including Rolling Stone, Boating Life, Waterski and Wakeboarding magazines. She holds a Bachelor of Arts in communication studies from The College of Charleston.
Photo Credits
Morozova Tatiana/Hemera/Getty Images