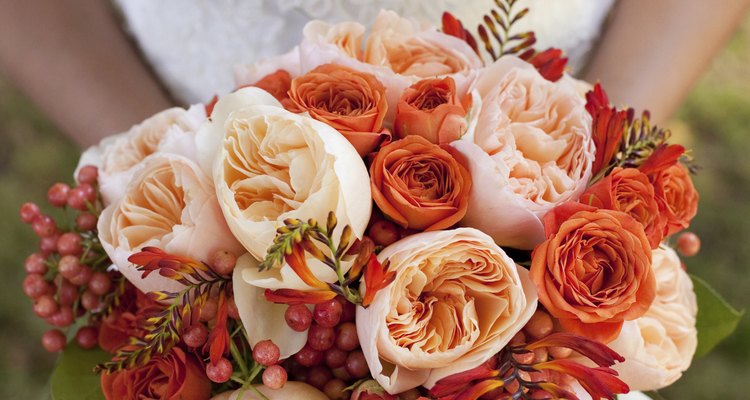 paulrichstudio/iStock/Getty Images
Making your own bouquet for your wedding can offer a budget-friendly expression of your style and personality -- this also allows for many trial runs with the design, so the final arrangement will be just right for you. Bouquets can come in many different styles and do not have to be constructed from traditional materials. Get creative and find what works for you, your budget and what you envision for your perfect wedding.
Traditional Bouquets
One of the best ways to find fresh-cut flowers for a traditional bouquet is to locate a floral wholesale that is also open to the public. The wholesalers sell the flowers in bulk, allowing you to purchase a large quantity of flowers for less. From these, you can make full, lush bouquets of your favorite varieties. Select what type of bouquet you would like, purchase everything you need to make it and then practice the construction method. For a hand-tied bouquet, you will need floral tape, ribbons and corsage pins. Gather the stems and then wrap them with the floral tape to secure them together. Pin the end of the ribbon at the top of the stems and neatly wrap the ribbon over the floral tape. Cut the ribbon at the end and then fold the end under to hide the cut edge and pin into a flower stem.
Minimalistic Bouquets
Carry a single flower to make a bold statement. A lone calla lily, rose or sunflower -- in lieu of a large presence of flowers and greenery -- can be beautiful. Use a flower that has a long stem so it is noticeable as you come down the aisle. Tulips and gerbera daisies would also be nice choices.
Rustic Bouquets
If you have chosen an outdoor or more rustic ceremony setting, you may want to make a bouquet to match. Create traditional-style bouquet but use pastoral flowers and plants to create the look of the rustic vibe you are trying to achieve. Incorporate dried lavender, succulents, scabiosas, peonies and hydrangeas. As an alternative to a bouquet, carry a basket of the aforementioned flowers along with fruits and vegetables such as pomegranates and artichokes.
Keepsake Bouquets
Make your bouquet out of materials that will last for the ages. Bouquets with silk, paper and fabric flowers allow brides to cherish their wedding flowers for many years after the ceremony. Brooch bouquets, which have become popular, are made up of vintage pieces of jewelry and silk flowers. Ask your relatives if they have any jewelry you may borrow for your bouquet. Visit antique shops, estate sales, thrift stores and garage sales to shop for jewelry. Once you have all of your pieces chosen, use craft wire each piece to create a long stem. Cover each stem with floral wire. Remove the middle section of some of the silk flowers. Thread the wire of a piece of jewelry through the flower. Arrange the flowers and the jewelry in the desired shape of your bouquet. Wrap the stems with a vintage handkerchief and secure with an antique cameo or other piece of jewelry.
References
Writer Bio
Caroline Baldwin, a corporate communications director located in South Carolina, began writing in 1998. Her work has been published in publications across the United States and Canada including Rolling Stone, Boating Life, Waterski and Wakeboarding magazines. She holds a Bachelor of Arts in communication studies from The College of Charleston.
Photo Credits
paulrichstudio/iStock/Getty Images