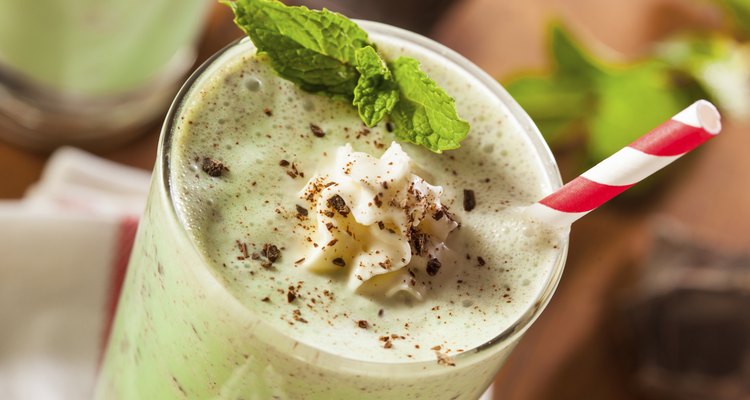 bhofack2/iStock/Getty Images
Green tea frappuccinos, popularized in trendy coffee houses, often come with hefty coffee house prices. Creating your own frappuccino at home is not only a cheaper option, but with the few ingredients required, it is relatively simple to make. Furthermore, frappuccinos made with high-fat dairy can be easily transformed into low-fat, vegan versions. Matcha, a finely ground and powdered high-quality tea, gives flavor and the distinct green color to green tea frappuccinos. Although not always available at your local grocery store, matcha can be found at most Asian grocery stores, specialty food and tea shops or online.
Spoon matcha powder into the blender; 1 tablespoon for each cup of milk used. Pour your preferred milk into the blender. For example, choose low-fat, partially skimmed or whole milk. Alternatively, use cream for a decadent frappuccino. Opt for almond, rice, soy or coconut milk for a lower-fat vegan version.
Add sugar to taste, for a sweet frappuccino. Alternatively, use non-refined sweeteners such as honey, maple syrup or mascavo sugar for a healthier option. Choose stevia or an artificial sweetener if a sugar-free version is preferred.
Add flavoring to taste, such as vanilla or raspberry syrup, if desired. Press "Pulse" on your blender to mix the ingredients. Remove the lid and add ice to the blender. Continue to pulse until the ice is pulverized.
Blend frappuccino until smooth; however, do not over-blend as an undesired watery consistency may develop. Pour into a tall glass. Top with whipped cream or garnish with fresh berries, if desired. Enjoy with a straw.
References
Warnings
Powdered matcha green tea contains caffeine; therefore, consuming one serving may keep you stimulated for up to six hours.
Writer Bio
Katherine Macropoulos has authored two books; a fictional, young reader and a spiritual autobiography. Her areas of expertise include food, beauty and style, travel, culture and society, business and spirituality. Macropoulos holds a Bachelor of Arts in English, a diploma in photography, graphic design and marketing and certification in esthetics.
Photo Credits
bhofack2/iStock/Getty Images