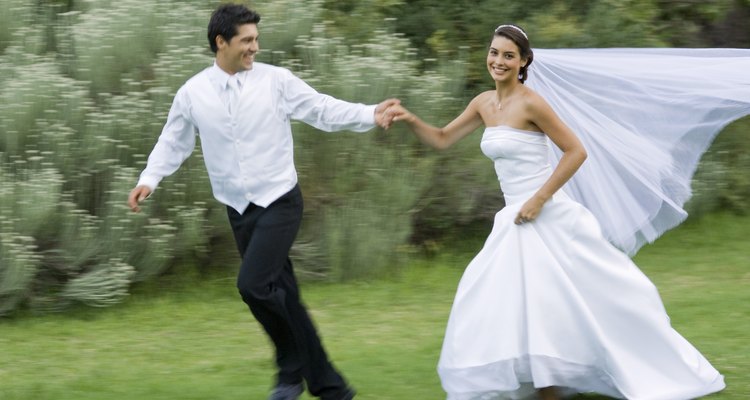 Jupiterimages/Pixland/Getty Images
If you have found the perfect wedding gown but the skirt isn't quite full enough, there is an easy solution for adding more flounce. Bridal slips come in a variety of shapes and sizes to accommodate various types of gown and preferences. Once you have the right slip, a little bit of ironing is all it will take for your gown's skirt to flair out beautifully.
Have your wedding gown professionally ironed, particularly if there is tulle sewn into the underskirt. Pressing the tulle will make it more crisp and puffy, giving the skirt extra volume.
Evaluate whether or not your wedding gown skirt is full enough after it is freshly pressed. If it is not, continue to step 3.
Think about how full you want your wedding dress skirt to be. Petticoats come in various degrees of fullness, including little, medium and very full.
Consider the kind of slip that will work best with your gown. Some slips have built in corsets or bustiers if you are looking for extra support. For gowns made of light or medium material, tulle or crinoline petticoats are usually sturdy enough to puff out the skirt. If your gown is made of heavy material, you may need a hoop skirt to add the right amount of volume.
Visit a bridal shop to try on petticoats under your gown. Most bridal shops carry petticoats in a wide range of sizes and designs. Try on several different styles until you find the one that achieves the look you want. Remember that if you choose a tulle or crinoline slip, it will be even more full after it is ironed.
Purchase the desired bridal slip and have it professionally ironed before your first fitting.
Consider having a seamstress add extra tulle to the underskirt of your dress if you are unwilling or unable to find the appropriate bridal slip. It is also possible to have the outside of the skirt modified to add extra flounce.
References
Photo Credits
Jupiterimages/Pixland/Getty Images