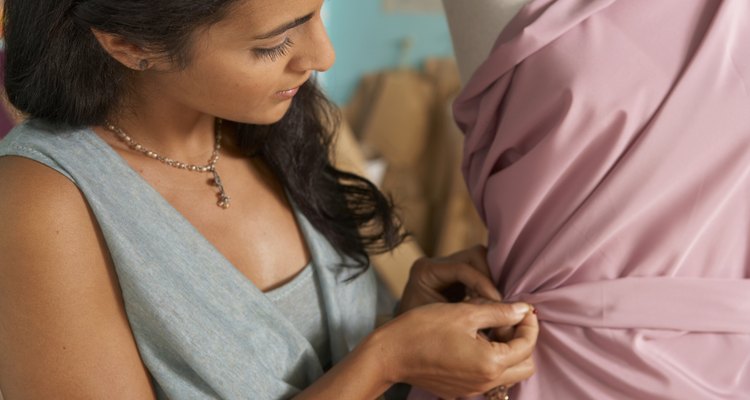 Maria Teijeiro/Digital Vision/Getty Images
Making a dress form to mimic your exact body measurements can be done with duct tape, packing tape or papier mâché. DIY dress forms are easy to set on a stand in the same manner as a store-bought dress form. Working with your dress form on a stand allows you to have a realistic view of how your creations will look when you wear them. Stands can be simple and utilitarian or creative. They are easy to make and to install in your DIY dress form.
Place the PVC pipe in the base of the tree or umbrella stand. Twist the thumb screws on the stand. If the stand uses standard screws perform this step with a screw driver.
Pencil mark the PVC pipe at your bust line.
Remove PVC pipe and cut along your marking with a hack saw.
Place PVC pipe back in tree or umbrella stand.
Spray paint entire base. Allow to dry then add a second coat.
Place batting around the top of your dress form to protect the PVC from damaging your DIY dress form. Tie string around batting.
Insert stand into dress form. Stuff additional batting, newspaper or other stuffing material to ensure that the stand stays firmly in place. Once upright, add additional duct tape to the bottom of the dress form to hold the stuffing in.
References
Writer Bio
Robin Neorr has been working as a full-time freelance writer since 2007. She has written for various websites including The Frisky. Before she started her writing career, she spent 10 years in media marketing. She has a bachelor's degree in communications and a master's degree in communications management from John Carroll University.
Photo Credits
Maria Teijeiro/Digital Vision/Getty Images