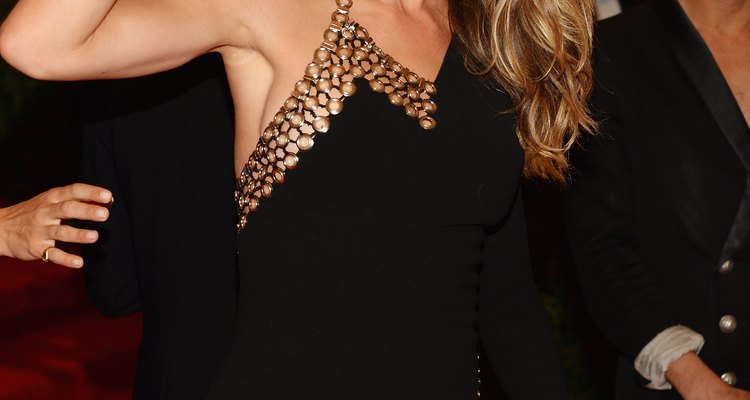 Dimitrios Kambouris/Getty Images Entertainment/Getty Images
Loose, low waves are a sexy, beach-inspired style that you can easily create if your hair already has curls. With curly hair, creating the waves lower and having smooth hair at the roots requires a few more styling steps. Take the time to achieve this look for a head-turning wavy 'do.
Wash and condition hair with curl-defining shampoo and conditioner. Comb out your locks with a wide-toothed comb as you are rinsing out the conditioner.
Squeeze excess moisture out of hair and towel it dry, gently finger-combing out any lingering tangles. Do not rub hair roughly or wring it too tightly. This can lead to breakage and snagging, and also can compromise curl.
Place a teaspoon of smoothing serum in your palm, then rub hands together to get a light coat of serum on your fingers. Run fingers lightly through the roots of your hair to apply serum thoroughly.
Wash your hands, then place another teaspoon of styling gel in your hand. Rub together and run hands through the lower part of your hair, where you want curls to be. Apply another teaspoon if your hair is long, past your shoulders, and thick.
Blow dry hair at the roots, combing down to just below your ears with a paddle brush. Make sure you blow away from the roots and comb through slowly to smooth out your hair. Blow dry until the roots are just slightly damp.
Attach the diffuser to your blow dryer and turn hair upside-down. Gather sections of hair into the diffuser cup and twist the diffuser upwards towards your head and back down, working all over hair until it is dry.
Spray a light coat of hair spray all over your hair. Don't use too much, as this will put weight on the curls and leave them limp after a short while.
References
Writer Bio
Amy Davidson is a graduate from the University of Florida in Gainesville, with a bachelor's degree in journalism. She also writes for local papers around Gainesville doing articles on local events and news.
Photo Credits
Dimitrios Kambouris/Getty Images Entertainment/Getty Images