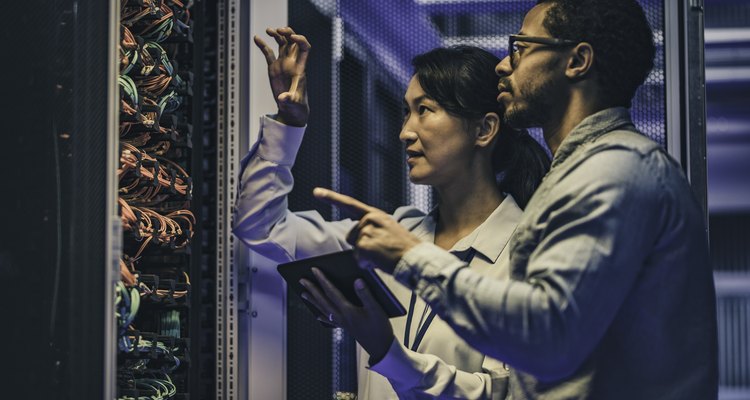 Dressing for a computer hardware job is driven by your specific duties, but following a few basic guidelines will keep you safe and not embarrassed. Whether a technician or an engineer, a computer hardware job can require certain activities that need the appropriate dress. Crawling under desks, reaching, bending, bending over to look behind the hardware, stooping and many other minor office acrobatics may be required and if not dressed appropriately, wardrobe malfunctions could be workplace fodder for many days.
Follow the company's dress code closely until you have a better idea of the culture and how folks interpret the rules. Casual days can mean different things at different companies, from shorts and flip flops to jeans and short sleeved collared shirts with casual shoes. Use the example of your co-workers and bosses when deciding on your wardrobe. Start at the conservative end and loosen up as you understand the culture.
Avoid jewelry that can get caught, or worse, cause a short to you or the hardware when bending over pieces and parts of computers. If you can't lose the necklace, at least tuck it in your shirt when troubleshooting. Neckties are also a danger for getting caught where you don't want them to, tuck them into the middle of your shirt or don't wear them if not required. Don't forget to un-tuck them if you are meeting customers or vendors.
Keep the skirt length long enough to not distract your co-workers while bending or stooping. Even if your skirt meets the dress code length requirement, make sure that if you are on your hands and knees plugging something in that people are still focused on their own duties, not your backside. Granted, the attention might be fun, but it's not the best approach to making sure you are known for your skills.
Do not show your cleavage or underpants. None of these are appropriate for your co-workers. Get a belt and save the party clothes for the nightlife. Be judged for your and work not your sex appeal (or lack of).
Make sure to test your work wardrobe before buying by bending over, stooping, sitting and crossing your legs in the dressing room. If you cannot comfortably do these things without flashing or binding yourself, keep trying.
Wearing closed toed shoes may be required if you spend time on factory floors. Find out about this before investing in lots of shoes. As well, know how much time you will be on your feet and if it's carpet or hard surfaces. Having comfortable feet will make your happier through the day.
Writer Bio
This article was written by a professional writer, copy edited and fact checked through a multi-point auditing system, in efforts to ensure our readers only receive the best information. To submit your questions or ideas, or to simply learn more, see our about us page: link below.