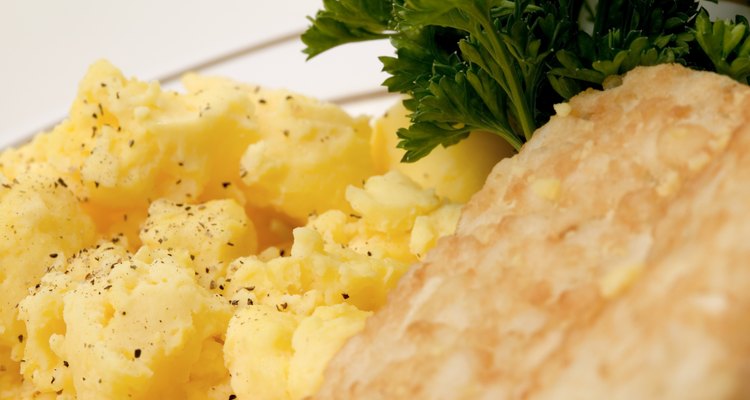 Jupiterimages/liquidlibrary/Getty Images
Dehydrate cooked scrambled eggs for a quick breakfast while camping or at the office. Removing the moisture from cooked scrambled eggs will help to prevent bacterial growth and spoilage. Dehydrated scrambled eggs are a source of lean protein that does not require refrigeration. Save money by avoiding the expensive packs of dehydrated breakfast foods that are available at most major camping and recreational stores. Dry your own scrambled eggs at home for sustained energy to handle whatever adventures life offers.
Pour the cooked scrambled eggs onto a stack of three paper towels that are on a counter, table or other flat stable surface. Smooth the pile into an even layer with a clean hand, then cover the layer in three more paper towels.
Press on the top paper towels to manually force some of the interior moisture out of the cooked scrambled eggs. Replace the top towels with new dry ones if they get too soaked to absorb more liquid.
Spread the pressed cooked scrambled eggs in a single layer on a baking screen or fine mesh food dehydrator rack. Some food dehydrators refer to this as the "fruit leather" rack.
Set the convection oven or food dehydrator to 145 degrees F. Load your trays into the oven or dehydrator and dry the eggs until they become brittle and crumble easily. The drying process will usually take two to three hours depending on the size of the scrambled egg chunks.
Store the dehydrated eggs in an air-tight container for up to a couple months. Dry scrambled eggs can be eaten dry or simply hydrated using one part eggs and one part hot water.
References
Writer Bio
Jeffrey Brian Airman is a writer, musician and food blogger. A 15-year veteran of the restaurant industry, Airman has used his experience to cover food, restaurants, cooking and do-it-yourself projects. Airman also studied nursing at San Diego State University.
Photo Credits
Jupiterimages/liquidlibrary/Getty Images