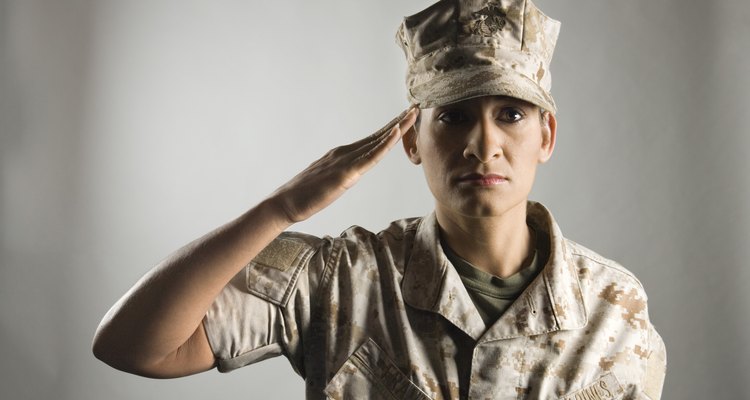 Jupiterimages/Comstock/Getty Images
Fitting your Marine web belt is essential to maintaining a proper gig line and the clean appearance that is expected of a Marine uniform. Even if you are using the belt for other purposes you will still want a good fit. The cotton webbing of the belt is woven to provide maximum strength, durability and comfort and trying to cut a Marine belt with a pair of scissors will not work. You need to cut a Marine belt so you do not destroy the integrity of the weave. It takes some concentration and about five minutes to do.
Wrap the belt around your waist and determine how much of the Marine web belt you need to cut off. Remove the belt from your waist.
Turn the belt over and press the release bar on the brass roller buckle forward and pull the web belt from the buckle. You will cut the belt on the end that locks into the buckle and not the end finished with the brass tip.
Lay the belt flat on your work surface and begin to cut it with a box knife. Do not attempt to cut through the cotton webbing with one pass. Cut the webbing in shallow layers. As you cut through the belt bend the two ends of the belt (on either side of the cut you are making) down so you may more easily see and cut the inside of the webbing. When you are done reattach your belt to the brass roller buckle.
References
Writer Bio
Cassandra Tribe has worked in the construction field for over 17 years and has experience in a variety of mechanical, scientific, automotive and mathematical forms. She has been writing and editing for over 10 years. Her areas of interest include culture and society, automotive, computers, business, the Internet, science and structural engineering and implementation.
Photo Credits
Jupiterimages/Comstock/Getty Images