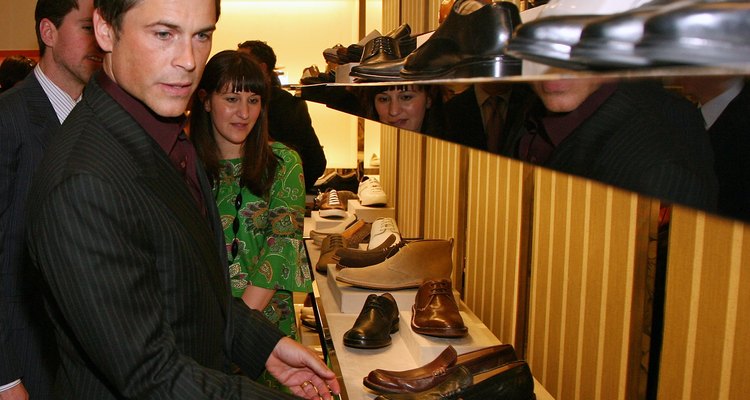 Ethan Miller/Getty Images Entertainment/Getty Images
Cole Haan dress shoes are an investment in quality and style, so when the shoes start to show wear and tear, it's helpful to know how to perform basic shoe care. Revitalize and resuscitate shoes with some minor repairs or a DIY cleaning job without affecting the character and structure of the shoes. If more substantial care is needed, it's time to send the shoes back to the source to be looked after by a professional.
Insert wooden shoe trees into the shoes in between uses. Shoe trees absorb excess moisture and keep the shoes in their original shape.
Brush dirt off of leather dress shoes with a horse hair shoe brush. Do this at least once a week or as often as dirt begins to noticeably build up on the exterior of the shoes.
Apply leather or suede conditioner to a soft cloth and wipe the formula onto the shoes in small, circular motions. The conditioner will clean and restore the supple feel to the leather and suede in dress shoes.
Purchase a specialty leather conditioner to use on reptile, ostrich or other exotic leathers. A regular leather conditioner will be too harsh for these materials.
Dip the bristles of a horsehair polish dauber into some carnauba wax polish that matches the color of the leather shoes. Apply the polish to the shoes in small circular motions. Carnauba wax is also called Brazil wax or palm wax. Allow polish to "go off" or be absorbed into the shoes by placing them in a warm area for two to three minutes.
Dab a heel and sole dressing formula to a soft cloth or cotton swab and rub the formula along the outer wall of the heel and sole of dress shoes.
Apply leather and suede protector onto shoes to shield them from water damage and other stains. The protector comes in spray bottles or aerosol cans and should be used every six weeks, or right before use if the shoes have been in storage.
Call Cole Haan Restoration Services. Cole Haan provides customized shoe repair using the same materials used to create the original shoe. The services range between heel replacement to an overall restoration of the shoes.
References
Writer Bio
Alana Armstrong started her writing career in 2005, covering street art and graffiti. She currently works as a freelance writer, photographer and artist in Toronto. Armstrong has a diploma in photojournalism from Sheridan College and a Bachelor of Fine Arts in photo media from the University of New South Wales.
Photo Credits
Ethan Miller/Getty Images Entertainment/Getty Images