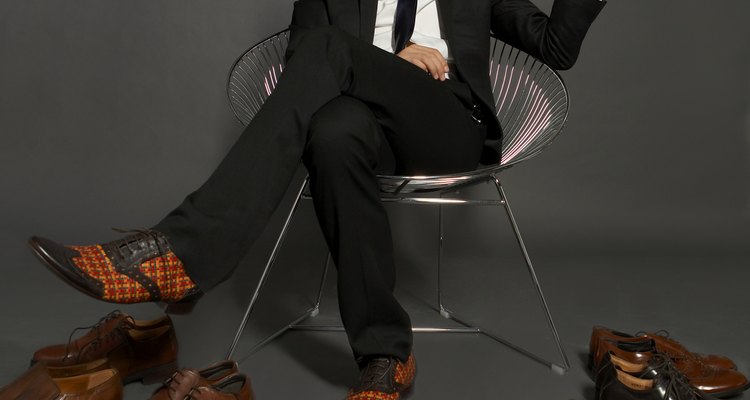 Sky View/Photodisc/Getty Images
Learning how to rehydrate fractured shoes can transform a closet full of abandoned soles into like-new footwear. Cracked leather shoes can be rehydrated with a few products and a lot of patience. While it might be tempting to rehydrate cracked shoes the fast way -- such as by blow-drying them between applications of soap or skipping steps -- you will be happier with the results if you take the time to do it right. Once you repair all of your old shoes, try breathing life into some cracked thrift-store bargains.
Step 1
Spread newspapers over your work surface and arrange your tools and shoes upon the paper. Fill a bowl with warm water and place on the newspapers.
Step 2
Insert a shoehorn into a shoe or push enough rags into the shoe that the shape of the shoe is held. Use a soft dry rag to remove all dirt and debris from the shoe.
Step 3
Dab a rag into a little of the water and then into the saddle soap. Spread the saddle soap over the shoe using short back-and-forth movements. Use as little water as possible.
Step 4
Spread a rag over your fingers. Scoop out mink oil with the rag and apply to cracks and over the entire surface of the shoe until the mink oil turns clear and absorbs into the leather.
Step 5
Buff with a clean rag until the shoe achieves a smooth appearance. Remove any mink oil from the soles and laces of the shoe. Set the shoe aside to air-dry overnight. Repeat the process with the other shoes.
Step 6
Apply a second coat of mink oil to the dry shoes using the techniques described above. Again, set the shoes aside to air-dry overnight.
References
Tips
Prevent cracking by polishing your dress shoes every week. For a less noxious approach, try natural shoe polishes such as olive oil mixed with a few drops of lemon juice.
When you are not wearing your shoes, keep them in shoe horns.
Warnings
Work in a ventilated area to avoid inhaling noxious fumes.
Writer Bio
Candice Mancini has always loved matching people with career paths. After earning her master's degree in education from the University at Albany, she spent a decade teaching and writing before becoming a full-time writer. Mancini has published articles and books on education, careers, social issues, the environment and more.
Photo Credits
Sky View/Photodisc/Getty Images