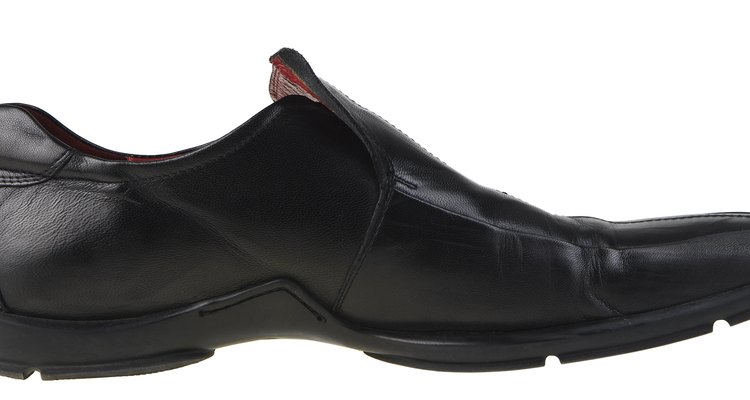 Photos.com/PhotoObjects.net/Getty Images
Leather loafers, boots, oxfords or tennis shoes can sometimes need softening. Perhaps the pair is brand new and a little uncomfortable around the ankle or maybe your favorite pair got wet and dried into a brittle mess. When this happens, don't despair. After cleaning the shoes, you can easily soften the dried leather with a few common shoe supplies.
Step 1
Apply leather cleaner to a cloth and rub it onto the shoe in small circles. Let the shoe dry for a half-hour or more. Use a clean cloth and gently rub off the polish in the same circle motion used during the application.
Step 2
Squeeze a dollop of shoe conditioner onto a clean cloth while the leather is still moist from the cleaning. Gently rub the conditioning treatment around the entire shoe, paying particular attention to the dry, stiff areas. Let the shoes sit overnight so the conditioner can completely absorb into the shoe.
Step 3
Remove the conditioner on the shoe using a clean cloth. Gently rub in circles until the shoe is shiny. After a few hours, the shoe might release more conditioner. Use another cloth to rub off any excess.
Step 4
Apply a shoe-stretcher spray all over the outside and inside of the shoe. Open the shoe stretcher completely by manipulating the knob. Place it inside the shoe and continue turning until it won't twist anymore. Remove the stretcher and try on the shoe. Repeat if necessary.
Step 5
Insert a cedar shoe tree before storing your leather shoes. This helps keep leather shoes soft and prevents them from cracking or wrinkling.
References
Tips
Search for a leather conditioning product with lanolin.
Waterproof your shoes with a protective spray.
Warnings
Keep leather shoes out of direct heat.
Refrain from using wax polish because it tends to dry shoes out.
Writer Bio
Based in Los Angeles, Lisa Finn has been writing professionally for 20 years. Her print and online articles appear in magazines and websites such as "Spa Magazine," "L.A. Parent," "Business," the Famous Footwear blog and many others. She also ghostwrites for mompreneurs and business owners who appear regularly on shows such as Ricki Lake, HGTV, Carson Daly and The Today Show.
Photo Credits
Photos.com/PhotoObjects.net/Getty Images