Have you noticed an increasing trend toward celebrating birthdays at restaurants? Well, there's a secret to making it a special night and not "just" another night as a restaurant: Be a hostess. What does that mean? From choosing the venue to sending out invitations, act as if you are inviting guests to your home. Put thought and effort into it and it will make the evening a special experience for everyone. Here are some tips for throwing the perfect birthday party at a restaurant.
You don't need to reserve a private room. Most restaurants are able to put together a table to accommodate groups ranging from six to twenty people. This leaves your options open since most restaurants do not have private rooms. Contact locations and see who will work with you to develop a set menu. Put together a three course meal (I love adding a cheese course at the end before dessert) and let the restaurant know that you will bring your own cake. Make sure to request that the table is setup at least a half hour before guests arrive so you have plenty of time to add your decor.
For invites, you can go traditional or digital. For a small group of 6-12 people it doesn't take too much effort to handwrite invitations and mail them, which is a nice touch these days since we really don't receive many invitations in the mail anymore! If you want to go digital, my new favorite resource is Paperless Post. Their designs are adorable and have a reach-out-and-touch kind of feel to them.
Here's where you can really shine as a hostess! Order small arrangements from a florist or make them yourself using low vases (read my other blog post on how to create floral arrangements). Buy bunches of the same type of flowers and create a corridor of flowers down the center of the table, or if transportation becomes an issue, have a florist deliver one beautiful arrangement to the restaurant. Remember to ask them to keep it low and full. To ensure conversation flow, plan on using place cards. It may seem old fashioned, but it's an added touch of formality that adds to the sense that the evening ahead is well thought through and planned to every detail. Here's how to make simple floral place card holders (that double as party favors!).
1. Purchase small, inexpensive clay pots.
2. Buy a flat of flowers.
3. Plant small sections of the flowers in each of the pots.
5. Use the cork as the name tag. Write the attendee's name on it using a permanent marker. Repeat.
6. Collect some forks from a local flea market or home goods store.
7. Put end of fork in soil and place cork on tines of fork.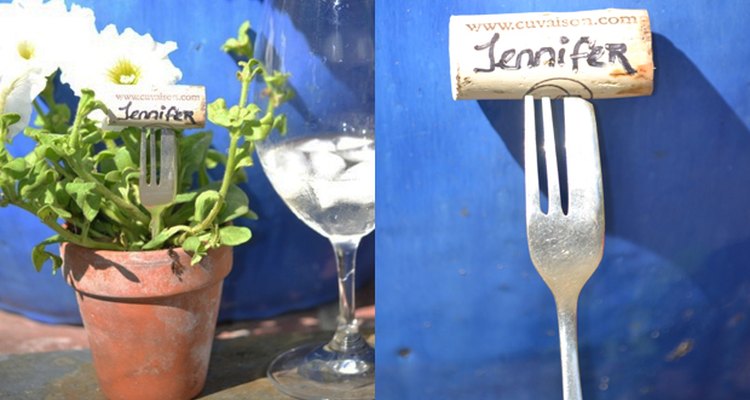 And don't forget to bring your own candles! Usually restaurants have one per table and by bringing your own you'll make the table extra special.
To create the atmosphere, greet guests as they arrive. Make sure they are served the signature cocktail for the evening and direct them to where they are seated. Throughout the evening it is your job as the hostess to make sure everything goes smoothly – from toasts to the birthday cake.
Party favors can be incorporated into stunning table decor or planned as a fun end-of-the-night treat. Here are some ideas for party favors:
Small silver frames, each engraved with the attendee's name (another place card that doubles as a party favor).
Candles at each place setting.
Funny gifts like made-for-tv items.
Pretty memo pads with the initials of the birthday girl or guy. Quick tip: Wrap them in beautiful paper to match the flowers.
Oversized and/or personalized stemware. Engraves names or sentiments look fantastic on any table and are a sweet keepsake from the dinner.
When the party starts wrapping up, thank everyone for coming and provide them with their party favor packed in a special bag for them to take home. If all the details seem like a lot of work, share the hostessing job with a friend. Restaurant birthday parties really are a great way to entertain. And the best part? No cleanup!
Photo credits: Elizabeth Lamont
Writer Bio
As a young New York fashion merchandising transplant, Liz started her foray into interior design when she launched a small interiors retail business in Santa Monica 25 years ago. Her relaxed, refreshing flair and natural design skills quickly caught the attention of celebrities & local trendsetters looking to capture the quintessential California style.