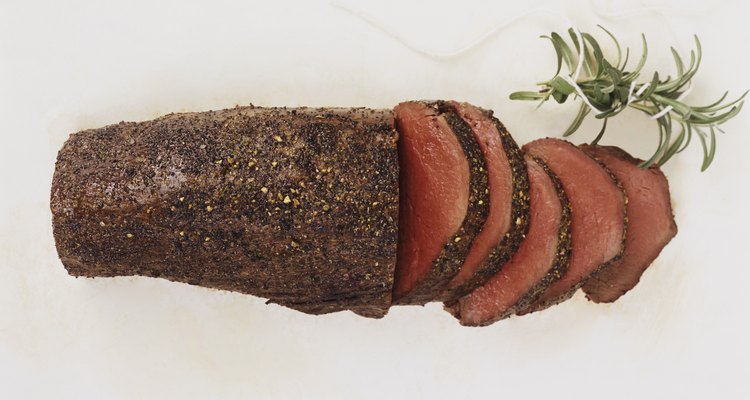 Digital Vision./Photodisc/Getty Images
If you are looking for roast beef with a home-cooked taste, look no farther than your supermarket's lunch meat counter. Cooked on the premises, store-baked roast beef comes straight from your grocer's oven -- sliced-to-order. Since the store takes care of most of the cooking, you spend less time in the kitchen. Purchase some homestyle gravy and rolls, and you have the makings for a hot roast beef sandwich that cooks in just a few minutes.
Pour one jar of beef gravy into a medium saucepan. Bring the gravy to a boil over medium-high heat on your stove top.
Remove the saucepan from the heat after boiling and place it on a trivet. Separate the sliced roast beef and add each piece individually to the hot gravy in the saucepan.
Slice the hard rolls or hero rolls in half using a sharp knife. Open the rolls and lay them on plates.
Remove the slices of roast beef from the gravy after two to three minutes using a fork and lay them one-by-one on the rolls until each sandwich is as thick with meat as you would like.
Scoop some gravy out of the saucepan with a ladle and pour some on top of each sandwich. Place the top of the roll on each sandwich. Serve.
Tips
Make open-face roast beef sandwiches by covering slices of white bread with the lunch meat and gravy.
Spruce up your hot roast beef sandwich with melted cheese, onions, mushrooms, salt, pepper, garlic or any other type of seasonings that you like.
Writer Bio
Jonae Fredericks started writing in 2007. She also has a background as a licensed cosmetologist and certified skin-care specialist. Jonae Fredericks is a certified paraeducator, presently working in the public education system.
Photo Credits
Digital Vision./Photodisc/Getty Images