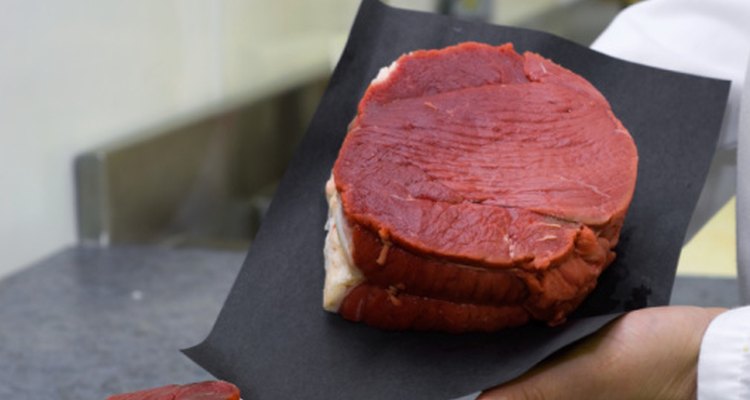 Jupiterimages/Photos.com/Getty Images
Beef olives are slices of steak that are stuffed and then rolled and tied into an oval shape that looks a bit like olives. The British call it beef olives, while the Italians call the dish bragioli. The sauce can be gravy-like or made with tomatoes. Start with thinly sliced steak that's no more than a 1/2-inch thick. Pound it with the smooth side of a meat mallet. If you prefer a gravy, flour the beef rolls before browning them and replace the crushed tomatoes with enough beef broth to cover the beef rolls.
Pound the steaks between two layers of plastic wrap to about 1/16-inch in thickness without tearing the meat.
Preheat the skillet over medium-high heat and saute the bacon until it is crispy. Add half the onion and half the garlic. Reduce the heat and saute over low-medium heat for 10 minutes or until the onion is translucent and beginning to brown.
Add the ground meat. Stir and cook the mixture for 10 minutes until the ground meat is thoroughly cooked.
Add the bread crumbs, parsley, thyme leaves and beaten egg. Stir to combine the ingredients.
Put 1/8 of the ground meat filling on each steak. Roll it up, tucking in the edges. Tie the beef rolls with kitchen string. Add 2 tbsp. of olive oil to the skillet over medium-high heat. Brown the beef rolls on all sides.
Add the remaining onions, garlic, wine, beef stock and tomatoes. Bring the mixture to a boil and then turn down the heat to low. Cover the skillet and cook the beef rolls until they are tender, turning occasionally, which can take about 45 minutes.
Transfer the beef rolls to a serving dish. Remove the string. Simmer the sauce until it is thickened, which takes about five minutes. Pour the sauce over the meat.
References
Resources
Writer Bio
Ramona French owned a massage school and taught massage for 28 years. In that time she wrote textbooks on Swedish, acupressure, deep tissue and lymph drainage massage. She is the author of "Introduction to Lymph Drainage Massage" and "Milady's Guide to Lymph Drainage Massage." Her book, "The Complete Guide to Lymph Drainage Massage," published by Milady, was released in October 2011.
Photo Credits
Jupiterimages/Photos.com/Getty Images