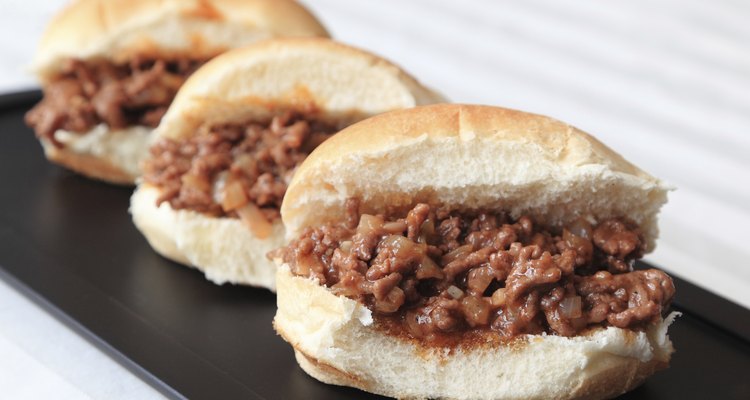 waymoreawesomer/iStock/Getty Images
Sloppy joe sandwiches can vary greatly in calorie content, depending on the recipe and on the amount of meat mixture you use to top your bun. Usually, sloppy joes are made with a mix of ground meat, a tomato-based sauce and onions scooped onto a hamburger bun. Including more vegetables in the meat mixture, using low-fat meat and adding less meat mixture to each sandwich can help you fit these sandwiches into a healthy diet.
Calorie Comparisons
A sloppy joe recipe made using one-quarter cup of ground turkey per person that has peppers, onions and green chilies added to the sauce has about 456 calories when served on a sourdough roll with lettuce. Using just one-fifth pound lean ground beef per person, onions, ketchup and water gives you a meat sauce that contains only 150 calories per serving. Pouring this sauce on a regular hamburger bun adds 117 calories, for a total of 267 calories. For a more flavorful sandwich, add green and red bell peppers, mustard and vinegar to the recipe and use extra-lean ground beef, which allows you to have a 3/4-cup serving of meat sauce and a multigrain roll -- all for a total of 270 calories.
References
Writer Bio
Based in Massachusetts, Jessica Bruso has been writing since 2008. She holds a master of science degree in food policy and applied nutrition and a bachelor of arts degree in international relations, both from Tufts University.
Photo Credits
waymoreawesomer/iStock/Getty Images