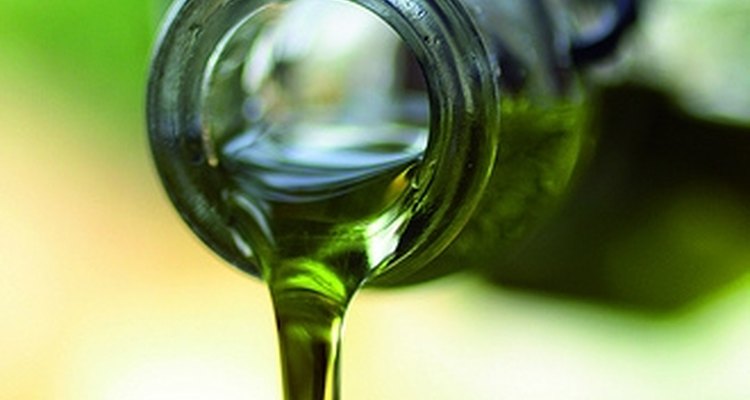 Moisturizing hair masks can be used to improve the texture and shine of normal to severely dry hair. High-quality vegetable oils, such as extra virgin olive or coconut, make up the base for most hair masks. Oil has the ability to penetrate the hair shaft and deliver moisture where it's needed most.
Oil and Wax Hair Mask
Olive and coconut oils combined with beeswax results in a moisturizing hair mask suitable for even the most dry and damaged hair. To make, combine one cup olive oil, one-half cup beeswax, and one tablespoon coconut oil in a small saucepan. Melt the ingredients over medium-low heat, and then pour into a heat-proof container. A plastic cosmetic tub works great, but any low tub or jar will work. Allow the mixture to harden for 20 to 30 minutes, and then store in a cool, dry place with the lid tightened securely to prevent drying.
To use, dip out a dime-sized portion with your fingers and place in the palm of your hand. Rub your hands together, and then work into the hair, beginning at the ends and moving up to the roots. Use more of the mixture if necessary to thoroughly coat all the hair. Allow the solution to remain on the hair for 30 minutes to several hours, depending on the condition of the hair. Shampoo twice to remove all traces of the oil, and then condition as usual.
Essential Oil Hair Mask
Lavender or rosemary essential oils can be used to repair dry, damaged and chemically treated hair. To make a moisturizing hair mask, combine 10-15 drops of either essential oil with one-fourth cup extra virgin olive oil. Castor oil or sweet almond oil may be used if olive is not available. For very long hair, double or triple the recipe as needed. Mix well, and apply the solution to damp hair. Cover hair with a shower cap and then cover the cap with a hot, damp towel. Leave in the hair for at least 30 minutes, and then shampoo twice.
Avocado and Coconut Oil Hair Mask
Both avocado and coconut oil are excellent moisturizers for dry hair. Either can be used on the hair alone, or they can be used in conjunction for extra strength. Peel and mash one very ripe avocado in a small mixing bowl. Optionally, the fruit may be pureed in a blender or food processor. Add one-half tsp. coconut oil and mix well. Apply the hair mask to clean, damp hair, thoroughly covering all strands. Make a double recipe if necessary. Leave on for at least 30 minutes, and then rinse thoroughly with warm water before shampooing.
Writer Bio
Willow Sidhe is a freelance writer living in the beautiful Hot Springs, AR. She is a certified aromatherapist with a background in herbalism. She has extensive experience gardening, with a specialty in indoor plants and herbs. Sidhe's work has been published on numerous Web sites, including Gardenguides.com.