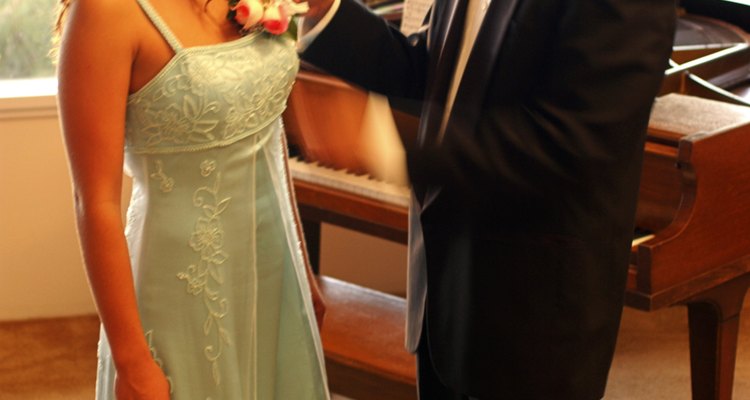 Jupiterimages/Comstock/Getty Images
High school prom is that event teenagers look forward to with much anticipation. To make this big night memorable, a lot of planning and organizing is necessary for teens and their parents. Knowing the rules of etiquette concerning the prom can help everyone have an exciting time.
Social Interaction
Teens should ask out their potential prom dates at least about three weeks prior to the event. Traditionally, the man asks the woman. On the big night, dates should be complimenting each other's appearance liberally, as everyone wants reassurance that they look good to their peers. It's traditional for dates to introduce each other to their parents before the night begins, and to give parents the opportunity to take photos of the couple. Parents should be addressed formally, such as with a "Yes, ma'am (or sir)." The best conversation starter topics are how lovely everyone looks, and plans for the evening. After dinner, the real fun begins at the prom where the couple should be prepared to dance away the night. Every couple should at least make an appearance at the prom dance, to see and be seen in high style. They should avoid cursing or leaving their dates alone when dancing or socializing. Teens should also plan to attend after-parties, but only in safe locations such as at a parent's house. Parents should make their curfew expectations known as well.
Attire
Selection of formal or semi-formal dresses and tuxedos needs careful attention, so that the prom look is classy and attire is properly fitted, as well as appropriately matched between couples. Prom attire should be as fancy as possible to emphasize how special the night is. An important part of prom attire that also needs to be ordered in advance is the woman's corsage given by the man and usually worn on the left wrist or dress, and the man's boutonniere given by the woman and worn on the left jacket lapel. These flower arrangements are a critical aspect of social acceptance at a prom, so great care must be taken for teens to exchange these with each other, as well as to make sure they are the appropriate color and style to coordinate with clothing. Teens should also be prepared with the best methods to properly pin flower arrangements to their date's clothing.
Transportation
Couples should make transportation arrangements according to their budgets and with the understanding that any drivers will not consume alcoholic beverages. Arriving by limousine makes a big statement and can allow several couples to arrive in style together, but agreements should be made ahead of time as to how much each couple will pay including for tips, which are usually 20 percent or around $100. Tips are normally paid at the end of the night. Other options are by car only with one couple, or carpooling. Men should always open the door of the car or limo for their dates, and consider offering an arm to link with hers or hand to hold when exiting the vehicle. Smoking and drinking should be avoided in a limo, as well as standing in moon roofs.
Dining
Choosing a restaurant for dinner, which usually takes place before the actual prom event, must be done with a date's approval. The couple should agree on cuisine and budget and make reservations well in advance. Other options include dinner at a house, or progressive dining where couples enjoy each course of a meal at a different house. The man should pull out his date's chair to seat her first. If an expensive restaurant is chosen, it would be beneficial for at least one of the dates to learn food preparation terms and how to read a menu especially if the cuisine is presented in another language. If attending with a group of couples, teens should maintain a respectful atmosphere by not being too noisy. Everyone should be served first before one person begins eating. With payment, it's best for each man to find out ahead of time whether group bills can be split per couple, and to pay in advance with cash, keeping in mind whether tips or service charges are included for large groups. Another option is for one man to charge the bill and receive cash payments from the other men.
References
Writer Bio
Anna Windermere started her writing and editing career in 1993, upon graduating from the University of Florida's esteemed journalism school with a bachelor's in journalism. Ms. Windermere, a senior-level copy editor, has appeared in mastheads of newspapers and magazines as copy chief, writer and proofreader, including "Sun-Sentinel," "Miami Herald," "City Link," "New Times," "NewBeauty," "Luxe," "Florida Alligator," "Orange & Blue," and more.
Photo Credits
Jupiterimages/Comstock/Getty Images