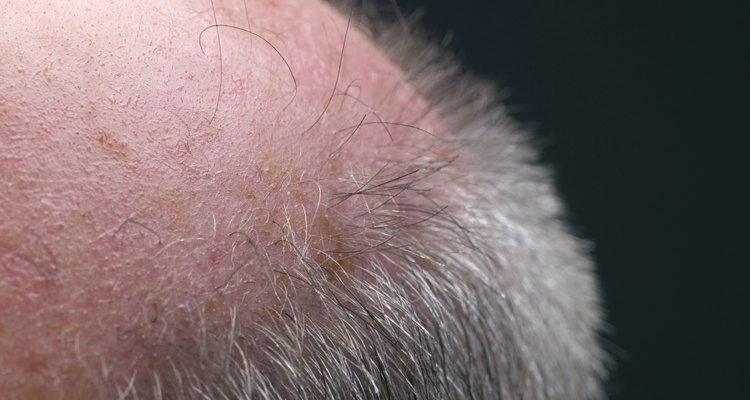 Christopher Robbins/Digital Vision/Getty Images
Using a glass scalp rake to stimulate hair growth is a holistic aesthetic process that has been around since the 1930s. The FDA has approved the glass scalp rake for use in treating aesthetic conditions such as wrinkles, acne, gray hair, dandruff and hair thinning or baldness.
Mechanics
The glass scalp rake is a low-current source of high-frequency waves in the violet region of the spectrum. Each handset holds a Tesla coil that creates a low-current. The current excites the inert argon gas within the tube, which creates the violet color in the glass. Light, heat, electric energy and ozone are produced through each attachment.
Topical Functions
Exposure to electrical energy helps disrupt enzymes that introduce dormancy to the hair follicle, breaks up sebum buildup and removes bacteria on the scalp.
Subdermal Functions
The glass scalp rake is known to transfer antioxidant electrons into the skin, creating ozone and neutralizing free radicals. Exposure to charged particles with high frequency produces a mild heating effect, which increases circulation and dilates blood vessels.
Use and Safety
When using the glass scalp rake, avoid using hair products that contain alcohol, and always work only on dry hair. Begin at power level zero and slowly increase the voltage depending on the comfort of the user. Always check the cord and insulator of the handset for any fraying.
Legality
In February 2007, Lexington International LLC announces the FDA clearance for their medical laser device, the HairMax LaserComb.
References
Writer Bio
Jennifer Van Leigh began writing short pieces in 2007. With over five years in the hair industry, Van Leigh has contributed articles at Atlanta Salon & Spa and is certified as an extensions stylist. She studied scriptwriting and creative nonfiction in Gallery 37, a Chicago youth arts program.
Photo Credits
Christopher Robbins/Digital Vision/Getty Images