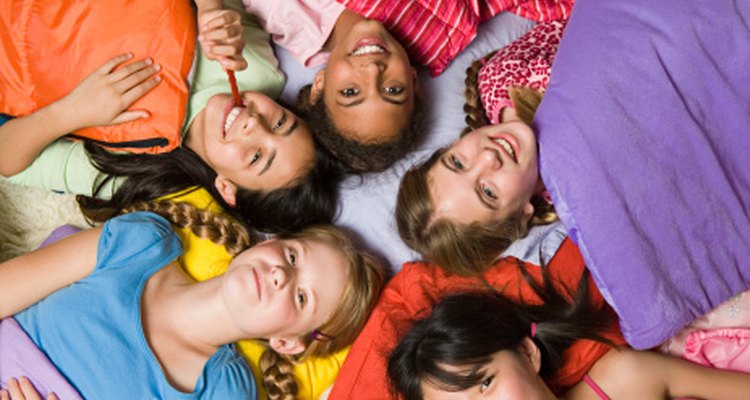 Jupiterimages/Brand X Pictures/Getty Images
The Girl Scouts are a national youth group devoted to helping young girls grow into bright, kind and engaging women. Hosting a sleepover party for a Girl Scout troop allows the girls to bond with each other and share in the joys of childhood. To keep the girls entertained, provide them with several hands-on activities.
Games
Lead the girls in a fun party game such as Sardines or Categories. For Sardines, ask one girl to go hide somewhere in the house or backyard. After a few minutes, tell the other girls to search for the first girl and, once they find her, hide with her. Once the last girl finds the group, the game is over. For Categories, have the girls sit in a circle and create a beat by slapping their palms on their lap and clapping. Name a category such as "types of candy bars" or "Disney movies" and instruct each girl to list an item from that category without missing a beat. The round ends when one of the girls cannot think of an item that fits in the category. Though games do not fulfill any official Girl Scout badge requirement, they give the troop a chance to bond with each other and display teamwork.
Crafts
Provide the girls with craft materials, either to use in the construction of an assigned craft project or to create their own, unique craft. For example, make custom headbands by providing the girls with plain cloth headbands and a glue gun to apply plastic jewels. Or, provide the girls with blank t-shirts and fabric markers so they can create their own unique shirts. For a less structured craft activity, simply supply the girls with cardboard, markers, glitter, stickers, pipe cleaners, construction paper, crayons, paints, glue, scissors and any other craft item that they can use to make their own creations. For those girls who have not yet earned their "Drawing and Painting" uniform insignia, this can also be an opportunity for them to do so.
Baking
Engage the girls in an edible activity such as cookie or cake baking. Choose a recipe that is easy enough for the girls to follow on their own, without too much adult intervention. For plain sugar cookies or cupcakes, create bright-colored frosting using food coloring so the girls can decorate the baked goods as they wish. Provide other toppings such as sprinkles or gumdrops for the girls to add to the tops of their delicious creations. For those girls who haven't yet earned their "Make It, Eat It" uniform insignia, this can also be an opportunity to do so.
Movies
To settle the girls down before bedtime, have them nestle into their sleeping bags to watch a movie. Choose a movie based on the girls' recommendations or simply choose a movie that you think they will like. To work in the Girl Scout theme, watch the movie "Troop Beverly Hills," which based around a fictional Girl-Scout-style youth group. Whatever movie you choose, make sure it is appropriate for their age group. To add to the excitement of the movie activity, pop popcorn for the girls to pass around as the movie is playing. Use this time to relax after a busy evening of activities.
References
Writer Bio
Margaret Kay has worked as a freelance writer since 2009. She has worked as a contributor to "The Gonzaga Bulletin." Kay has recently completed her Master of Theology in media ethics at the University of Edinburgh.
Photo Credits
Jupiterimages/Brand X Pictures/Getty Images