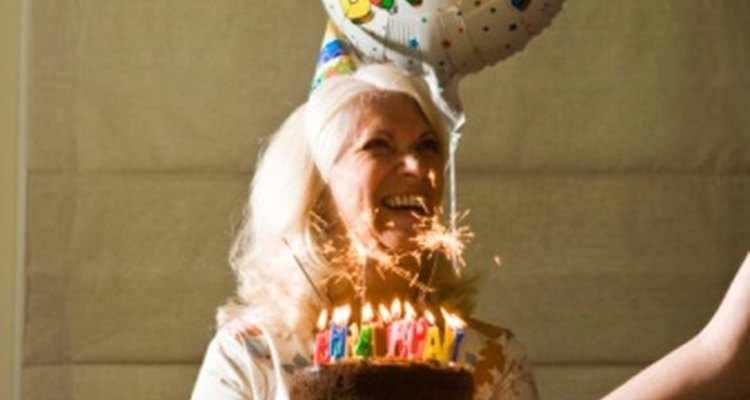 Jupiterimages/BananaStock/Getty Images
Sixty-six is an age in which many are retired; however, an active lifestyle full of volunteering, traveling and spending time with friends and family is entirely possible. Celebrate the 66th birthday of friends and family with a variety of gift options that will make their day better and give you a sense of accomplishment.
Print Gifts
Numerous print gift ideas are available for your favorite soon-to-be 66-year-old, many of which can be framed. Options include frames of personalized birthday newspapers that feature headlines from the year the person was born and framed birthday poetry concerning the 66th birthday. Prints of names and their meanings with frames are another option, or booklets from the year the person was born, such as booklets about prices, ads and events from the person's birth year. Trivia playing cards about the year of her birth are another option. Look for such gifts on shopping websites such as Birthday and Anniversary Gifts, My Gifts From the Heart and First Name Meanings.
Apparel
Apparel gifts for the 66th birthday include T-shirts that read "66," "(Birth Year) Classic," and "I Don't Have A Problem Admitting My Age, After All I'm Only 66" with the numbers written in tiny print. Other T-shirt options include "66 And Smokin" featuring flame images, "Damn I Make 66 Look Good" and "66 Is Just A Number. A Very Large, Foreboding Number." Other apparel ideas for the 66th birthday include aprons that read "Who Knew 66 Could Look This Good" and hats that say "Made in America (Birth Year)."
Travel Gifts
Give the gift of travel. Those with the resources can consider buying a travel gift package for the 66-year-old that has always wanted to visit a certain place or region, such as a wine tour of Northern California or a trip to the Grand Canyon. Plan a trip to the city or town where the 66-year-old grew up, or visit multiple areas of special significance to the person, such as his favorite vacation destination growing up or where he lived in his 20s.
Time Line Gifts
Time line gifts for the 66-year-old can include burning a CD featuring a list of popular songs when the person was a teenager and in college. Create a list to accompany the songs and glue small images of the singers and bands included on the CD, as well as the year the song was released. Other time line ideas include creating a gift basket of favorite foods and snacks from when the person was young if possible. Numerous retro candy sites are available for creating such baskets, including Nostalgic Candy and Hometown Favorites.
References
Resources
Writer Bio
Kent Page McGroarty has worked as a writer since 2006, contributing numerous articles to various websites. She is a frequent contributor to the health and fitness sections of the online magazine EDGE Publications and holds a Bachelor of Arts in English from Saint Joseph's University.
Photo Credits
Jupiterimages/BananaStock/Getty Images