Goodshoot RF/Goodshoot/Getty Images
Dress length etiquette is determined by the type of event, the time of day and what is requested on your invitation card. If you see a "BT" on the lower right-hand corner of of the reception card or the invitation, those letters are indicating that "black tie" attire is required for that event. If you are unsure about the dress length etiquette for an event, it is always acceptable to ask the hostess.
Cocktail
Hemera Technologies/AbleStock.com/Getty Images
Cocktail dress length calls for short, dressy elegant dresses or very dressy pantsuits. Cocktail dresses are not to be confused with casual dress lengths, which can be any dress, except for those with holes, tears or the distressed style. Dressy casual and cocktail dresses are close to being the same, except cocktail dresses are a bit more elegant. Dressy casual etiquette can be dressed more casually than dresses that are intended for cocktail dress use. Cocktail dresses can be short, as long as they are tasteful, and can be knee-length, as well.
Informal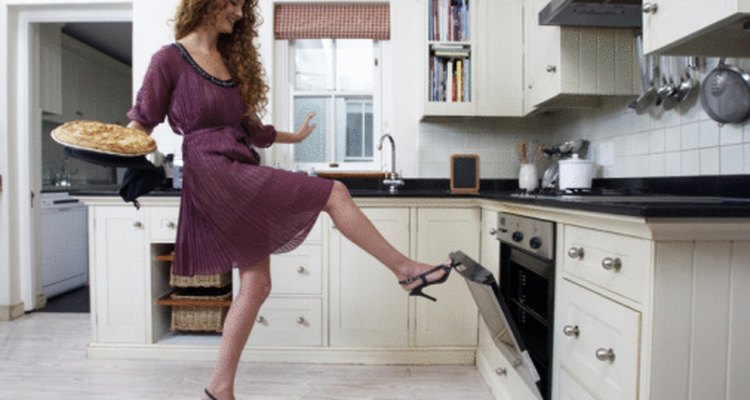 Goodshoot RF/Goodshoot/Getty Images
Informal or semi-formal occasions for women call for knee-length dresses. Dresses can be of any material, any sleeve length and with or without hosiery. Heels of any length can be worn with the knee-length dresses and these dress styles are suitable in any season. Knee-length dresses of jewel tones and darker colors, especially earth tones, work best for fall and winter seasons. Spring and summer tones call for light colors, such as pastels and orange, red and white. You can wear black in any season without reserve. Informal can mean the same as casual.
Formal
Hemera Technologies/PhotoObjects.net/Getty Images
Women are required to wear a knee-length dress or a long dress to formal occasion. The season and the occasion will dictate the color and the material of the dress. Velvet can be worn in the winter, in shades of dark jewel tones, or in black, for example. Formal dresses often call for shawls, matching small handbags and other accessories that match the formal overall look.
Ultra-Formal
George Doyle/Stockbyte/Getty Images
Ultra-formal calls for long evening gowns. The gowns may have formal trains or may be floor length. As long as they are formal evening wear, they will be acceptable if the event is held in the evening. The evening is considered to begin at 6 p.m., so use 6 p.m. as your gauge for wearing gloves or not. If the event is held in the day and the event is ultra-formal, you may wish to go with a formal, floor-length day-wear gown. Wear elegant vintage bracelets and rings over elbow-length gloves. You can remove them to enjoy dinner. Except for dinner, gloves remain on at all times.
References
Writer Bio
As a former elementary school teacher, Cheryl Starr now writes full-time from Missouri. Her work has appeared in various magazines, including "Teachers of Vision," "Insight" and "Highlights." She is currently writing a novel and a devotional book. Starr studied elementary education at the University of Arkansas at Little Rock.
Photo Credits
Goodshoot RF/Goodshoot/Getty Images