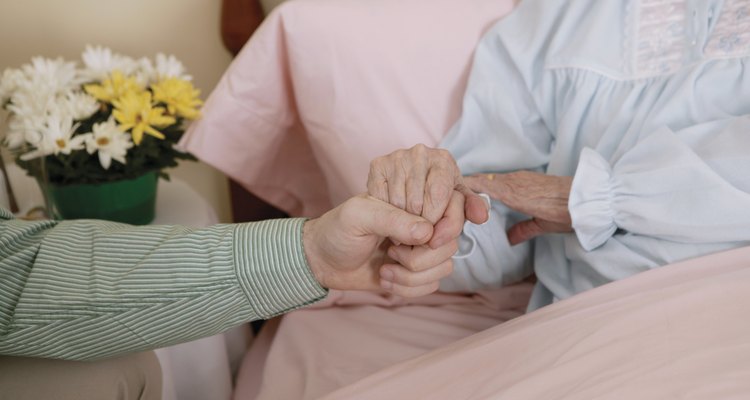 Comstock Images/Comstock/Getty Images
If your parent has become bedridden, you are most likely overwhelmed with sadness and even anger about the fact that she can no longer care for herself. You might wonder if you have the ability to encourage her. Being willing to help her when she is bedridden will show you are committed to her well-being and long to lift her burdens.
Prepare Yourself
Prepare yourself for the upcoming sacrifices that having a bedridden parent requires. More than 42 million Americans provide care for an adult who needs help with daily activities, according to an AARP survey reported in a 2012 USA Today article. Many are unprepared for the financial sacrifice and emotional stress of watching a parent's health deteriorate. Find a supportive group of friends.
Explain Your Intentions
Explain to your bedridden parent that although she may fear abandonment, you are going to be around to help through her sickness. You will not leave if things become difficult. Let her know that you understand your support is essential, and that you intend to express your appreciation for all she has done for you. Oftentimes a bedridden parent may feel like a burden. Informing her that this is a sacrifice you are pleased to make will help her feel relaxed and assured in your presence.
Create a Relaxing Environment
Create the kind of environment you know your bedridden parent will enjoy. Perhaps she likes classical music. She might love a certain television show and look forward to watching it every evening. Whatever the case, little things make a big difference for someone who is bedridden, according to Suzanne Roberts, founder of the website "Seeking Solutions with Suzanne."
Do Something Unexpected
Give your bedridden parent a surprise, such as mocha from her favorite coffee shop or a meal from a restaurant delivered to her room. Otherwise, being in the same place all the time may depress her. You will also remind her that she is always loved, despite this difficult period or life. She will appreciate your kindness and feel much more satisfied.
References
Resources
Writer Bio
Kristen Moutria has a Bachelor of Arts in psychology from Evangel University. She is currently pursuing her Master of Arts in education from the University of Nebraska.
Photo Credits
Comstock Images/Comstock/Getty Images